Little Big Man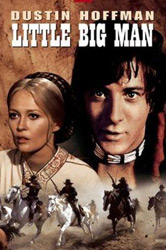 Little Big Man is a 1970 movie directed by Arthur Penn and written by Calder Willingham. It is a comedy and drama about a Caucasian boy raised by the Cheyenne nation during the 19th century.
Jack Crabb, 121 years old, recounts stories of being captured by Indians, becoming a gun fighter, and acting as a scout for Custer at Little Big Horn, you begin to wonder if the stories are fact or fiction. Jack and his older sister Caroline survive the massacre of their parents' wagon train at the hands of Native Americans. He is raised by the Cheyenne leader Old Lodge Skins. Jack is given the name 'Little Big Man' because he's short but very brave. Later Jack spots Custer and his troops marching nearby and decides to exact revenge. Custer accepts him as a scout, and Jack leads the troops into a trap at the Little Bighorn. Before the attack, Jack tells Custer of the huge number of Native Americans hidden in the valley. Custer does not believe him and leads the 7th Cavalry to its doom.
The movie stars Dustin Hoffman, Chief Dan George, Faye Dunaway, Martin Balsam, Jeff Corey and Richard Mulligan.
Did you know?
It was released on December 14, 1970 and the budget was $15 million!
It was filmed in Virginia City, Billings, Alberta and Calgary Canada, on the Cheyenne Indian Reservation in Lame Deer, the Montana, Crow Agency, Montana, Nevada City, Montana, the Crow Indian Reservation in Hardin, Little Big Horn River, Little Bighorn Battlefield National Monument, Los Angeles, California and Thousand Oaks, California.
To get the voice of a 121 year-old man, Dustin Hoffman went in his dressing room and screamed for an hour.
Dustin Hoffman has been in Rain Man as Raymond Babbitt (Academy Award for Best Actor), Hook as Captain Hook, Finding Neverland, Lemony Snicket's A Series of Unfortunate Events, The Holiday, Mr. Magorium's Wonder Emporium and Kung Fu Panda.
Richard Mulligan has been in Hey Arnold!, Star Trek: Judgment Rites, Oliver & Company, Trail of the Pink Panther, 82 episodes of Soap, Charlie's Angels, Little House on the Prairie, and I Dream of Jeannie.
The gross revenue for the US was $31,559,552!
Thank you to:
http://www.imdb.com/
Wikipedia