Hidalgo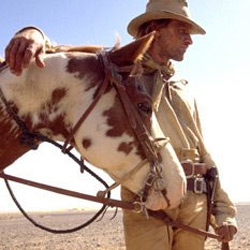 Hidalgo is a movie based on the life of American horse rider Frank Hopkins and his horse Hidalgo. In 1897, a wealthy Sheikh invited Frank, and his horse to enter the Ocean of Fire race which has been held annually for centuries, the 3, 000 mile survival race across the Arabian Desert. During the course of his life, Hopkins had been a cowboy and dispatch rider for the U.S. government and carried a message to the U.S. 7th Cavalry Regiment, authorizing what became known as the Wounded Knee Massacre.
While working as a stunt rider in Buffalo Bill's Wild West shows, Hopkins is advertised as 'the greatest rider the West had ever known'. The Sheikh puts this claim to the test, setting him and his mustang against the world's greatest horses and riders. For Hopkins, the Ocean of Fire becomes not only a matter of pride and honor, but a race for survival as he and his horse attempt the near-impossible desert crossing.
Viggo Mortensen stars as Frank Hopkins, and University of Montana graduate J.K. Simmons plays Buffalo Bill Cody. Omar Sharif, Louise Lombard, and Silas Carson also star.
Movie reviewer Roger Ebert said on March 5, 2004 "…Hidalgo is a throwback to a more innocent time when heroes and their horses risked everything…Let us assume that…after he grew morose while laboring in Buffalo Bill's Wild West Show, he risked everything to travel to the Saudi desert and enter the 'Ocean of Fire', a legendary race across the sands for a $10,000 prize…If you do not have some secret place in your soul that still responds even a little to brave cowboys, beautiful princesses and noble horses, then you are way too grown up..."
Did you know?
The final horse scene was filmed in Browning, Montana. 550 different horses were used in that scene! The horses all came from different owners, so to tell them apart, their hooves were branded.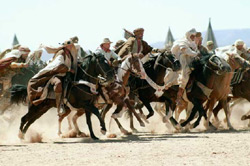 It was filmed in California, South Dakota, the Blackfeet Indian Reservation in Montana, Oklahoma, Glacier National Park, Kalispell and Morocco.
Viggo Mortensen purchased the horse that played Hidalgo after the film was done.
5 different horses played the role of Hidalgo.
The movie has made $108,103,450.
It was released February 17, 2004 after being made on a budget of $78,000,000.
Thank you to:
http://www.imdb.com
Wikipedia
Hidalgo article