Big Eden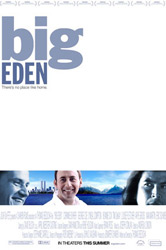 Big Eden was released in 2000. It is a romantic dramatic movie written and directed by Thomas Bezucha. Henry, a successful but lonely New York artist, returns to Big Eden, the town of his childhood, to care for his dying grandfather. Henry finds he must come to terms with his relationship to Dean Stewart, his best friend from high school, and the object of his unrequited love. Henry's feelings for Dean, which caused him to flee Big Eden nearly twenty years ago, seem to have grown stronger over the years.
Henry's reappearance sparks a transformation in Pike, the shy Native American owner of the town's general store. Pike is as surprised as anyone when he finds himself falling in love with Henry. As this unspoken triangle unfolds under the scrutiny of Big Eden's community, nearly everyone in town develops a stake in its outcome. Big Eden is a uniquely American fable about home and family.
The film starred Arye Gross, Eric Schweig, Tim DeKay, Louise Fletcher, George Coe, Nan Martin, O'Neal Compton, Corinne Bohrer, Veanne Cox, Douglas Sebern, Parker Livingston, Cody Wayne Meixner, Mark Twogood, Christopher Kendra and Josie Adams.
Did you know?
Big Eden was filmed entirely in Montana! Filming took place in Apgar Village, Glacier National Park, Kalispell, Somers, Swan Lake, and Whitefish.
Arye Gross has been in Gone in Sixty Seconds, Minority Report, Wildfire, CSI: Crime Scene Investigation, Grey's Anatomy, and Law & Order: SVU.
Eric Schweig has appeared in The Last of the Mohicans, The Scarlet Letter, Tom and Huck, The Missing, Into the West, Bury My Heart at Wounded Knee, Squanto: A Warrior's Tale, and Pontiac Moon.
In 2000 Eric won the Grand Jury Award L.A. Outfest for Outstanding Actor in a Feature Film for
Big Eden
as well as an Honorary Doctorate of Education from Nipissing University in Canada.
It won awards from several gay and lesbian film festivals, and was nominated for best limited release film at the GLAAD Media Awards in 2002.

The director, Thomas Bezucha said "I…had these fantasies of moving out West, chucking it all in and going to teach art in some elementary school in Montana. I would express that fantasy and all my friends would freak out and say, 'Are you crazy? You can't do that, you're gay, do you know what they do to gay people out there?' I sort of got into this idea of - it was amazing how prejudiced people in an urban setting were about rural people, the preconception about the mindset out there - and I thought, 'Well, what if that weren't the case?'"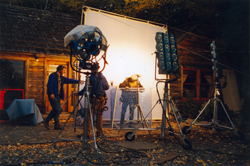 Big Eden even had an Oscar winner in the movie: Louise Fletcher, from One Flew over the Cuckoo's Nest!
Thank you to:
http://www.bigeden.com/
Wikipedia