Don't Come Knocking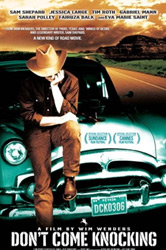 Don't Come Knocking is a 2005 film, a comedy-drama road trip movie directed by German director Wim Wenders and written by Wenders and actor/playwright Sam Shepard.
Howard Spence has seen better days. When he was younger he was a movie star, mostly in Westerns. At the age of sixty, he tries to avoid the painful truth that there are only supporting roles left for him to play. The next morning Howard is absent from the film set. Instead, we see him galloping away on his movie horse in his cowboy costume. He is fleeing from the film and his life.
Howard escapes from his mother's house in Nevada, this time to find his child in Butte, Montana. Butte is a ghost town, barely recognizable as the setting of the film shot there 25 years ago, a movie that shot Howard to stardom. Howard meets Doreen as she reacts very coolly to the unexpected reappearance of the father of her son. For the first time in his life, Howard tries to do something unselfish as he tries to put his disconnected family back together. He may manage to bring a brother and a sister together as well as mother and her son closer to each other.
The film stars Sam Shepard, Jessica Lange, Tim Roth, Sarah Polley, Fairuza Balk and Eva Marie Saint.
Did you know?
The movie was filmed in Butte, Montana, Arches National Park in Utah, Elko Nevada, Los Angeles California, Salt Lake City Utah and Nevada.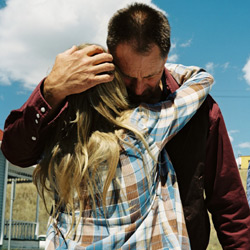 Don't Come Knocking premiered on May 19, 2005 at the Cannes Film Festival and was distributed by Sony.
The movie was named after a U2 song, which was written after it premiered at Cannes.
The budget was $11,000,000!
Sam Shepard, a playwright and star of the movie, has appeared in 1989's Steel Magnolias, Hamlet, Black Hawk Down, The Notebook, and Charlotte's Web.
Eva Marie Saint, known for Alfred Hitchcock's North by Northwest in 1959, was also in Titanic, Because of Winn-Dixie and Superman Returns.
When asked about Butte, Wim Wenders said "Franz and I went to great lengths to make Butte look painterly. We knew from the beginning where it was going to take place. I've known this town for almost 30 years..." and "When I shaped up this guy Howard, this idiot, who was eventually ending up somewhere where he was going to find the life he didn't have, I told Sam this is my chance in a lifetime to finally make a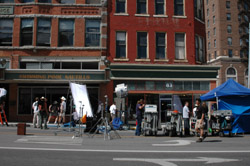 movie in Butte, Montana. And I told him, however he gets there, when he gets there, it's going to be Butte."
Thank you to:
http://www.dontcomeknocking.com/
http://www.imdb.com
Cannes Interview
Wim Wenders Interview
Wikipedia