Dancing Ground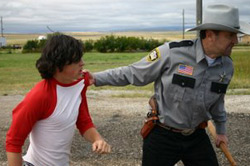 Dancing Ground is a 2006 family drama movie that was written and directed by Tobin Addington.
Tom's life is coming apart. His estranged son is moving away and his father is losing his memory. Going on an American Indian spirit quest, Tom travels out across the land to face his ghosts; his lost father, his own failures to finally come of age, all to become the father his son deserves.
Dancing Ground has been in numerous film festivals, including the Florida Film Festival and the first annual Trail Dance Film Festival. It also played the first annual Tacoma Film Festival, the Student Shorts Film Festival in Toronto and the Emerging Narrative Short section of the IFP Market in New York.
Dancing Ground has won the Groundbreaker Award at HatcHfest in Montana, was the Grand Prize Winner at the Flatland Film Festival, won Faculty Honors and the Hallmark Development Grant at the Columbia University Film Festival, and was a Semi-Finalist at the Angelus Student Film Festival.
The film stars Randall Newsome, Miles Gravage, Ron Crawford, Dee Dee Van Zyl, Libby Bugbee and Bridger Longtine.
Did you know?
It was filmed in Judith Gap, Montana.
The director's statement reads "The script was inspired largely by hunting trips I took with my own father ten or so years ago. It was a real treat for both of us to have him work on this movie -- credited, at his request, as Key Grip Emeritus. I find myself often writing about fathers and sons, even as I try to navigate my own course among them. I feel very lucky to have a father who has come to understand and support my passion for filmmaking. This film is for him."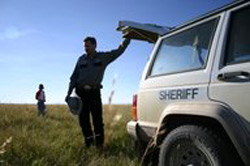 Randall Newsome has acted in W., Law & Order, Benji: Off the Leash!, Big Fat Liar and Highlander II: The Quickening. He was also the assistant director for Buried Alive, Disorganized Crime and The Mighty Quinn.
Thank you to:
Dancing Ground blog
http://www.imdb.com