Cattle Queen of Montana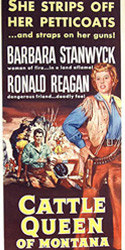 Cattle Queen of Montana is a 1954 American Western film, written by Robert Blees and directed by Allan Dwan.
The Jones family, about to prove claim to prime Montana land, is raided by renegade Indians in league with villainous neighbor McCord, who gets most of the stolen cattle. 2 survivors are helped by the chief's son Colorados. Sierra Nevada Jones must fight for her land against legal technicalities and assorted villains. The show is rare because in the western, the main hero is a capable woman.
It starred Barbara Stanwyck, Ronald Reagan, Gene Evans, Chubby Johnson, Myron Healey, Rodd Redwing, Paul Birch, Lance Fuller, Burt Mustin, Jack Elam and Anthony Caruso.
Did you know?
It was filmed in Glacier National Park and the Iverson Ranch in Los Angeles, California.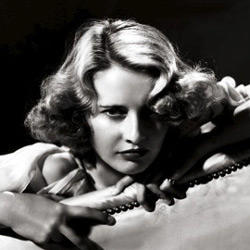 Barbara Stanwyck was nominated 4 times for an Academy Award, was a 3 time Emmy Award winner, and a Golden Globe winner. She has been in almost 100 movies, including The Lady Eve, The Barbara Stanwyck Show and The Big Valley. She also has a star on the Hollywood Walk of Fame.
Ronald Reagan has been in Boy Meets Girl, Alice in Movieland, 1941's Million Dollar Baby and Bedtime for Bonzo. Reagan was also in television, acting in The Ford Television Theatre and the General Electric Theater Host for 35 episodes.
Anthony Caruso has been in The Legend of Grizzly Adams, The Incredible Hulk, Star Trek, Tarzan, The Addams Family, Get Smart, 4 episodes of Disneyland as Chief Blackfish, Zorro, Adventures of Superman in 1953, Blackbeard, the Pirate and Tarzan and the Leopard Woman.
Thank you to:
Wikipedia
http://www.imdb.com/
The New York Times