Son of the Morning Star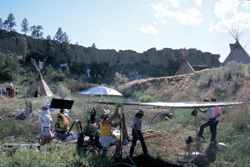 The Battle of the Little Bighorn was re-created for this ABC mini-series. It was filmed near Billings, Montana close to the actual site of Custer's Last Stand. The production company considered filming at the actual site, about 55 miles southeast of Billings, but it proved impractical. The battlefield is now a national monument with gravestones and markers all over the terrain. Not too far away, however, the topography of Pryor Creek (as opposed to the Little Bighorn River) worked well to stage the battle scene. Native American advisors helped throughout the picture, many being from nearby Crow Agency. In addition to stunt teams, two hundred re-enactors were used to re-create Custer's battle. 
The
Son of the Morning Star
production brought in experts from all over the country. Such details as Custer's buckskins were patterned exactly after those in the Smithsonian Museum. Native American specialists spent hours matching authentic makeup on the warriors and their horses.