The River Wild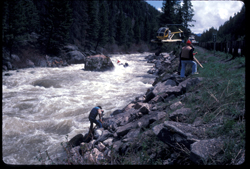 In this suspense-thriller, a married couple takes a river-rafting vacation in an effort to save their marriage. The trip turns deadly when they encounter a charming, but menacing stranger who forces them to guide him through treacherous white-water rapids.
The River Wild was filmed on two of Montana's white-water rivers-the Kootenai River near Libby, and the Middle Fork of the Flathead River near Glacier National Park. The movie was filmed almost entirely on the river, as if it were an actual river-rafting trip. The production company constantly had to adapt the filmmaking process to a river trip mentality.
During filming, spontaneity was a common goal of cast and crew. During one scene, the river pulled one of the oars into the white-water. When it surfaced, the oar slammed the stunt double playing one of the characters and threw him from the raft. That incident, "improvised" by the river and caught by the cameras, opened up several new creative possibilities and a new scene was reworked around it.
The natural setting influenced other creative decisions as well. Originally, the script called for one of the characters to wash her hair in the river. The filmmakers discovered that such actions are not allowed on real waterways because of potential damage to the environment. As a result, the scenes were changed. Environmentally responsible decisions such as this were important to the filmmakers and to the cast.
The film stars Meryl Streep, Kevin Bacon, David Strathairn, Joseph Mazzello, and John C. Reilly.