Hoot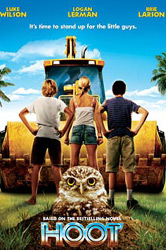 Hoot is a 2006 movie based on Carl Hiaasen's book. Directed by Wil Shriner, it was produced by Walden Media, of the Narnia movies. It features live burrowing owls and music by Jimmy Buffett.
Roy Eberhardt has just moved to Florida from Montana, and makes the mistake of telling everyone so. He is teased mercilessly, and is pretty fed up, until he meets Beatrice and her stepbrother 'Mullet Fingers'. A corrupt CEO of a pancake company is attempting to build a new pancake house. There is a problem though; a group of burrowing owls will be killed if they bulldoze the site, so the trio embarks on a crusade to save the endangered animals.
The movie starred Logan Lerman as Roy Eberhardt, Brie Larson, Cody Linley, Luke Wilson, Tim Blake Nelson, Neil Flynn, and Jimmy Buffett as Mr. Ryan the Science Teacher.
Did you know?
Hoot was filmed in Paradise Valley, Montana, Florida and California.
Cody Linley has also acted in Hannah Montana, That's So Raven and My Dog Skip and Brie Larson has been in Sleepover and 13 going on 30.
It opened May 5, 2006 at #10 at the U.S. and Canadian box offices. The film grossed $8,224,998 worldwide.
Logan Lerman, who played the lead role, won a Young Artist Award for his performance in Hoot. He received the 2007 Best Performance in a Feature Film, Leading Young Actor award.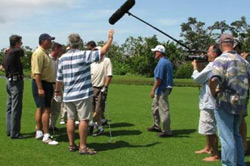 Boston Globe's reviewer Ty Burr gave it 3 out of 4 stars: "Hoot tells kids they can make a difference in this world…Of the different messages in the movie: overdevelopment is bad, nature is good…the most effective is the simplest: You have more power than you think."
Hoot was shot during hurricane season, and the set didn't escape Hurricane Katrina, which struck Southern Florida in August. Brie Larson and Cody Linley were moved from their beach front hotel to another hotel because of the storm.
Thank you to:
http://www.imdb.com
Wikipedia
The Boston Globe