Far and Away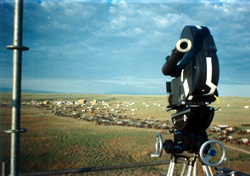 A major scene that takes place in Far and Away is based on a real life event, the Oklahoma land rush. In 1893, thousands of people lined up in covered wagons, buggies, hay carts, on horses and mules, and on foot for the race that would open up the land to settlement. They were waiting for a rifle shot at noon to begin the great race that could make them landowners. On July 8, 1991, the race was re-created on a ranch outside of Billings, Montana.
The huge undertaking took many months of careful planning. Hundreds of horses were brought in, and each horse drinks twenty gallons of water a day. To accommodate all the horses and people who came from all over the country to film this scene, a entire self-contained city was built. It had tents, kitchens, courthouses, corrals, and parking spaces, all of which had to stay well out of view of the cameras.
Rattlesnakes were cleared out. Holes and ruts were smoothed over. The grass was protected from modern-day truck tracks. Good weather was a must, and was wished for daily. On the morning of the re-creation of the race, traffic was halted on Interstate 90, seven miles away. There were cameras in a helicopter and up on an eighty-foot tower that were filming all the way to the horizon.
Appearing in the scene were about 1,000 people, 200 wagons, and 900 horses, mules, and oxen.