Beethoven's 2nd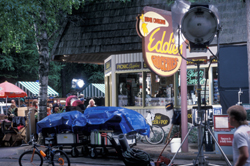 The continuing adventures of the lovable St. Bernard dog screen star, Beethoven, and his human family was filmed in and around the Flathead Valley, Glacier National Park and the Flathead National Forest.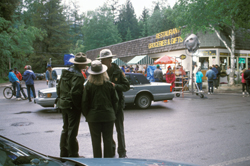 Beethoven's Second, a Universal Picture film, included a western vacation that was filmed in Montana. Behind the screen a lot of attention was given to the canine stars. When Universal Studios packed up two DC-9 airplanes and flew into Glacier Park International Airport, it was the St. Bernards that went first class, not the actors! This upstaging occurred so that enough room for the dogs would be provided for by removing the first class seats.
Other pooch facts include that it took over 44 St. Bernards to film Beethoven's 2nd. St. Bernards grow at a rapid pound-a-day rate. Since the script called for puppies eight to nine weeks old, the canine actors had to be switched every two weeks to keep the puppies the right size while the movie was being filmed. The dogs were exercised every hour and fed three times a day. While the typical adult dog eats about eight cups of dog food a day, these pooches ate a whopping 12 cups! It took three trucks accompanying this troupe of canine actors to accommodate all their dog paraphenalia.