Always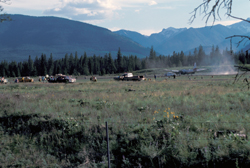 Steven Spielberg plans ahead. Really! Always, a story of ghosts, romance, and firefighters, was filmed in Libby, Montana in 1989. But Steven Spielberg had wanted to do the story ten years before it was ever filmed. And he was ready when the 1988 fires in Yellowstone National Park gave him the opportunity for some footage of an actual fire.
Getting permission from the National Forest Service, film crews in airplanes shot footage of the fires. In many scenes in the movie where Richard Dreyfuss and John Goodman are flying over a fire, it's actually Yellowstone Park burning below.
Many of the local residents in Libby had a chance to take part in the movie by getting dirty -- really dirty! One hundred seventy five extras were needed to play the part of firefighters, and we all know what firefighters look like. Local newspapers were used to recruit the extras and they had a great turnout of interested people. Guess there's lots of people who want to get paid for getting dirty!