Michelle Williams
Updated: September 2, 2020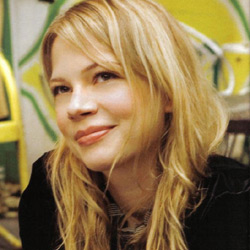 Michelle Williams was born in Kalispell, Montana on September 9, 1980. "All the mistakes, all the good times and bad, have really shaped me and changed me". She is an Academy Award-nominated American actress. Williams became a star on the teen series Dawson's Creek and later graduated to full-length features, most notably Brokeback Mountain, for which she earned an Oscar nomination for Best Supporting Actress
When Williams was 9, her family moved to San Diego, California, where she became interested in acting. After completing the ninth grade at the Upper School of Santa Fe Christian Schools, in Solana Beach, California, she left school in 1998 in order to pursue her acting career in as Jen Lindley on Dawson's Creek.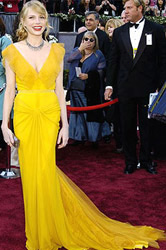 Williams' career began in television, appearing in programs such as the 1990's version of Lassie, Baywatch, and Home Improvement. Williams' first film role was in the motion picture Species. Soon after, she was in Halloween H20: 20 Years Later with Josh Hartnett.
Her first starring role was in the film Dick, opposite Kirsten Dunst. For her performance in The Station Agent Williams, along with the rest of the cast received a Screen Actors Guild award nomination for Best Acting Ensemble. Michelle said to The Record "It's the woman/child thing that I've got going on inside my head, I have always felt older than I am and most of my friends are considerably older than me. I just never related to kids my own age."
In 2005 in Brokeback Mountain, Michelle's performance earned her a Critic's Choice Award, a Golden Globe, a BAFTA, and the Academy Award nomination for Best Supporting Actress.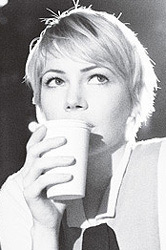 Williams was engaged to Australian actor Heath Ledger and gave birth to their daughter, Matilda Rose Ledger, on October 28, 2005, in New York City. Proving that Michelle stays close to her friends, Matilda's godfather is Jake Gyllenhaal while her godmother is Busy Philipps, Michelle's co-star on Dawson's Creek.
Williams was chosen as one of Teen People magazine's 21 Hottest Stars Under 21 twice. She has said to The New York Times Union in Albany that "(Theatre) just so safe and free there. The liveness. I think that's the beauty of it, the purity of it. Theatre gets me back to everything I started acting for."

Thank you to:
http://www.michelle-williams.net
Wikipedia!
Updated: September 2, 2020