Charles Marion Russell
March 19, 1864 – October 24, 1926
Updated: August 31, 2020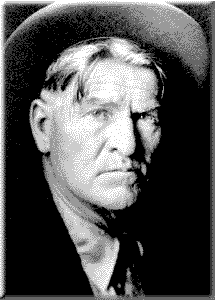 Charles Marion Russell was born on March 19, 1864, in the little town of Oak Hill, a suburb of St. Louis, Missouri. His family owned the Oak Hill Firebrick and Tile Works and were prosperous. We know quite a bit about Charlie's early years as much of his life story has become legend. Charlie was not particularly fond of school and in later years, playfully denied ever setting foot in a school. He would then correct himself by saying he had gone one day when his brother was sick, and he had taken his place. As a child Charlie was much more interested in the activities down on the waterfront of his Missouri home. He was fascinated with the "West" and he would spend day after day watching the explorers, soldiers, fur traders and entrepreneurs arriving from and destined for the upper reaches of the Missouri. He read everything he could on the West and was determined to be a cowboy just as soon as he could leave home.
Charlie's other childhood preoccupations were drawing and modeling small figurines of animals. He drew on anything he could get his hands on and he stole wax his sister used for making flowers to create his tiny models. When he ran out of wax, he used clay from the nearby brickyard. A friend of the family was so impressed with his figurines that they gave him a slice of beeswax. From that day on he carried a small ball of the substance in his pocket. Later in life, as he stood talking to his friends, he took great pleasure in suddenly producing a tiny, beautifully modeled figure of a horse's head or snarling wolf, to the delight of all.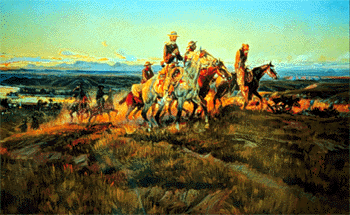 Finally his father decided that a real taste of the Wild West would be the only cure for the young man. His father thought the hardships of the frontier would change his mind, and he would settle into his schoolwork and take his place in the family business. He arranged for Charlie to travel with Pike Miller, a friend of the family, to the Judith Country sheep ranch of Jack Waite and work for at least the summer. At the age of sixteen, Charlie set out for Montana and remained there for the next 46 years.
They traveled west by rail to Utah and then north by stage, wagon, and saddle horse to the ranch in Judith Gap. The beauty of the country made a deep and immediate impression on the young man. He saw towering mountain ranges surrounded by open grassy plains teaming with deer, elk, moose, mountain goat, antelope, and beaver. He was also struck with the people he met in the territory. Cowboys and Indians, characters he had only read about in his dime novels and a host of others previously unknown to him, desperados, miners, bullwhackers, Chinese, missionaries, trappers, and traders. All of these characters, along with the legends and true stories of the West, would become the source and inspiration for his paintings and sculpture. Charlie had a remarkable ability to remember and recreate every detail of their dress and equipment, right down to the beadwork patterns on the moccasins of Indians he painted.
As it turned out Charlie was not much of a sheepherder. He was much too preoccupied to keep his mind on the sheep, and he only lasted a few weeks on the Waite sheep ranch. With no money or food his prospects were looking dim. Fortunately he fell in with an experienced hunter named Jake Hoover who was willing to let the young Charlie hunt with him for the next year and a half. This proved to be one of the most valuable experiences of the young man's life. He learned the secrets of nature, the habits of animals and how to read "sign-language," precious skills in the old west, and Charlie never gave up his ambition to be a cowboy. Eventually he was hired by S.S. Hobson as a night herder, a job he held on and off for the next eleven years. As a night herder, Charlie had lots of time to paint during the day. He still painted on just about anything and he painted for fun, giving most of his pictures away.
In February of 1887, Charlie made a little sketch that established his reputation as a Western artist. The winter had been one of the worst in Montana history. Extreme cold and deep snows had made it impossible for the cattle to dig through the rock-hard drifts to the grass and, as a result most of the herds were devastated. A cowboy friend of Charlie's was trying to describe in a letter to his boss just how bad the situation was and failed to find the right words. Charlie made a little painting about the size of a postcard and titled it "Waiting for a Chinook." The painting showed a starving, frozen steer surrounded by wolves. His friend simply sent the painting. No further explanation was necessary.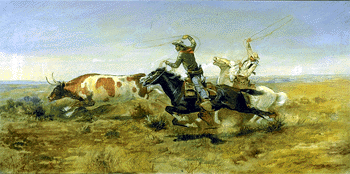 Unlike many Montana citizens of the day, Charlie was interested in the Indians and tried to learn as much about their culture as he could. He spent the summer and winter of 1888 living with Sleeping Thunder of the Bloods and his band. He learned their customs, language, and stories. His detailed observations furnished him with a deep understanding and knowledge of the people, and many of his painting were based on Native American themes.
For the next several years Russell worked for cattle outfits around the Lewistown and Cascade area, occasionally painting pictures for small fees. In 1895 while in Cascade he met Nancy Cooper, recently arrived from Kentucky and a year later they were married. Nancy recognized his artistic abilities, and was determined to see him make the most of his talents. The couple moved to Great Falls and searched for a market for his work. Most people in the area simply weren't interested in pictures of cowboys and Indians. She soon began to bring in commissions from back east. Charlie illustrated several books and had a one-man exhibition at the Folsom Galleries in New York in 1911.
Gradually his reputation grew. The Prince of Wales, while visiting Calgary, Canada, purchased a Russell, which now hangs in Buckingham Palace. The painting sold for $10,000. At the time, it was the highest price ever paid for the work of a living American artist. With his career in full bloom, Russell had showings throughout the country. In 1925 he was honored with a special exhibition at the Corcoran Gallery of Art in Washington, D.C.
Russell was also a fine sculptor; in fact, many art experts consider him a finer sculptor than painter. Many of his original pieces were cast in bronze and can be seen in museums throughout the world. He was also a fine writer and humorist. His books include Rawhide Rawlins Stories and Trails Plowed Under. He is also remembered for his delightful personal letters to his friends. Many were collected by his wife and published under the title Good Medicine.
Many people are struck with the imagination and animation in Russell's paintings. They often tell a story and leave you with the question, "What will happen next?" You can view famous Russell paintings at several Montana locations: Montana State Historical Society, Helena; Montana State Capitol, Helena; the C.M. Russell Museum, Log Studio, and Home, Great Falls.
Learn More:
Updated: August 31, 2020