Jeannette Rankin
Updated: August 3, 2020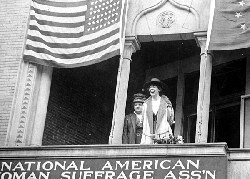 The first woman to serve in either house of the U. S. Congress, and one of the first women to serve in any major legislative body, was Montana's Jeannette Rankin. She was elected in 1916, at a time when women could not even vote in most states.
In office, she introduced the first bill that would have allowed women citizenship independent of their husbands. She also supported government-sponsored prenatal and child-care education for women. A pacifist, she voted against U. S. entry into World War I and World War II (the only member of Congress to vote against both). Both votes were unpopular, and the vote against declaring war on Japan, after Pearl Harbor, ended her political career. She did not run for reelection following her vote but continued to work for social reform. Jeannette Rankin is remembered for her courageous convictions and for living her life with conscience, as well as being the first woman elected to Congress.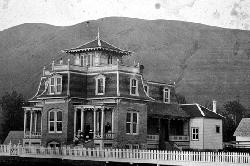 Jeannette Rankin was born in Missoula, Montana, on June 11, 1880, the eldest of seven children. Her father, John Rankin, was a successful rancher and lumber merchant and her mother, Olive Pickering Rankin, was a schoolteacher. After attending schools in Missoula, Jeanette graduated from the University of Montana in 1902 with a degree in biology. She briefly taught in country schools before serving an apprenticeship as a seamstress and supported herself by taking in sewing. When Rankin's father died in 1904 she assumed more responsibility for her five sisters and a brother, Wellington, who later became her close political advisor.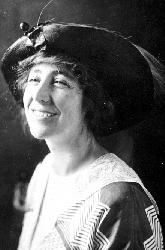 In 1908 Rankin left Montana to study at the New York School of Philanthropy. She then became a practicing social worker in Seattle, Washington. Eventually she enrolled in the University of Washington. At the time, the campaign for women's right to vote (the woman's suffrage movement) was gaining energy throughout the country. Rankin joined the state organization and began to actively campaign for the cause. Ultimately, she served as legislative secretary of the National Woman's Suffrage Association. Her efforts assisted Montana women in winning the right to vote in 1914.
Having gained political experience, in 1916 she ran successfully for a seat in Congress, on a progressive Republican platform that addressed women's issues of the day. She supported woman's suffrage, child-protection laws, and prohibition. When Rankin went to Washington, many of her colleagues had misgivings about her abilities, but the congresswoman from Montana revealed herself to be highly educated, widely traveled, and sophisticated. She became an outspoken isolationist and was one of 49 members of Congress to vote against declaring war on Germany in 1917. This unpopular stand cost her the Republican nomination in 1918. After the war she became a lobbyist and returned to social work.
Running on an antiwar platform in 1940, Rankin again won election to the House. She created a furor as the only legislator to vote against the declaration of war on Japan after the bombing of Pearl Harbor. The vote effectively ended her political career. She did not seek reelection but continued to campaign for peace and social reform throughout her long life. Drawn to the work of Indian pacifist Mohandas Gandhi, she traveled to India several times between 1946 and 1971. Later Rankin participated demonstrations against U. S. involvement in Vietnam. Jeannette Rankin died on May 18, 1973. In 1985 a bronze statue of Rankin was placed in the U. S. Capitol.
Updated: August 3, 2020