Charley Pride
Updated: August 31, 2020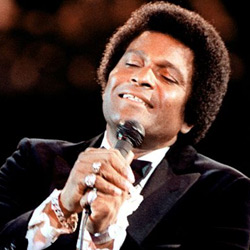 Charley Frank Pride was born in Sledge, Mississippi on March 18, 1938. He is a country music artist. During his career, he has had thirty-six number-one hits on the Billboard Hot Country Songs charts. His father named him "Charl Frank Pride", but because of a typing error on his birth certificate, he was legally born as Charley Frank Pride. His father was a sharecropper on the farm who picked cotton. The fourth of eleven children - eight boys and three girls - Pride grew up in a family headed by Mack and Tessie B. Stewart Pride. When he was 14 years old, Charley bought a guitar from Sears Roebuck and proceeded to learn how to play by listening to country music on the radio.
Although the Pride family was poor, Pride's mother insisted there were people with a lot more money who would give millions for what her son had. She pointed out to him, as an example, that he had all of his fingers and both eyes. "I don't have no skin hang-ups. I'm no color. I'm just Charley Pride, the man."
Though he also loved music, one of Pride's life-long dreams was to become a professional baseball player. In 1952, he pitched for the Memphis Red Sox of the Negro American League. He pitched well, and, in 1953, he signed a contract with the Boise Yankees, the Class C farm team of the New York Yankees.
Discouraged that he couldn't qualify for the major leagues because of an injury, Pride began working construction in Helena, MT, while he still played in the minors in the 1950's. Eventually, he earned a tryout for the California Angels in 1961, but they turned him down; the following year, the New York Mets rejected him as well.
After struggling to get a contract with a record company, he was signed to RCA in 1966. In 1966, he released his first single with RCA, "Snakes Crawl at Night". When the song was promoted to radio stations, the label called Pride "Country Charley Pride". At this time, country music was a white medium.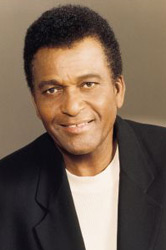 Soon after the release of "Snakes Crawl at Night", Pride released another single called "Before I Met You". Soon after, Pride's third single, "Just Between You and Me", was released. This song was what finally brought Pride success on the Country charts. The song reached #9.The success of "Just Between You and Me" was enormous. He won a Grammy Award for the song the next year. However, success didn't come as easily as it might have for a white country singer. He was still considered by many in the music business as a "Black Performer".

On January 7, 1967, he became the first black artist to perform on the Grand Ole Opry since DeFord Bailey in 1925. He also appeared in 1967 on the American Broadcasting Company's "The Lawrence Welk Show". Between 1969 and 1971, he had six number-one hits. These hits were "All I Have to Offer You Is Me", "I'm So Afraid of Losing You Again", "I Can't Believe That You've Stopped Lovin' Me" and "I'd Rather Love You".
Pride's next #1 single came in 1971. It was called "Kiss an Angel Good Morning", a million-selling crossover single that helped Pride land the Country Music Association's prestigious Entertainer of the Year award, as well as Top Male Vocalist, both in 1971. He won the CMA's Top Male Vocalist award in 1972, as well. Besides being a country #1 in 1971, the song was also his first that reached the pop charts, reaching #21, and it went into the Top Ten of the Adult Contemporary charts.
Besides the U.S., Pride has performed in Europe, Australia, New Zealand, Japan, Fiji, and Canada. He frequently appears on USO tours, entertaining military personnel stationed overseas. Once during a USO tour, after being heckled by black soldiers for singing country music, Pride told the mixed race audience, "I'm singing for my brothers on this side of the room, and for my brothers on this side. I told you in the beginning. I'm not James Browne. I'm not Sam Cooke. I'm Charley Pride, country singer. I'm just me and that's what you get."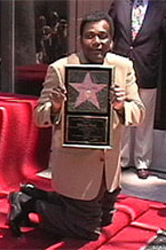 Pride received the Trumpet Award from Turner Broadcasting in January 1996 in recognition of his outstanding achievement as an African American. The state of Mississippi adopted his "Roll On Mississippi" as its official song and named a stretch of highway in the state for him. He also performed in a special Christmas program at the White House for President and Mrs. Clinton. In 2000, he was elected to the Country Music Hall of Fame.
Pride has made 50 albums and sold over 70 million records (singles, albums, compilation included), and on September 6, 1969 he appeared on national television on The Johnny Cash Show to perform a medley of Hank Williams songs with Cash. Pride also sang the national anthem for both Super Bowl VIII and game two of the 1991 World Series. On May 1, 1993 Pride accepted an invitation to join the Grand Ole Opry, in the process becoming the first black Opry regular in the show's more than 70-year history. In June 1994 he was honored by the Academy of Country Music with its prestigious Pioneer Award. In July of 1999, Pride received his own star on the Hollywood Walk of Fame. On October 4, 2000, he was inducted into the Country Music Hall of Fame.
Thank you to:
http://www.charleypride.com/
Wikipedia
Updated: August 31, 2020