Colin Meloy, frontman of the Decemberists
Updated: August 31, 2020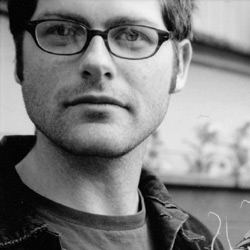 Colin Meloy was born in Helena, Montana on October 5, 1974. He is the lead singer and songwriter for the Portland, Oregon folk-rock band The Decemberists. In addition to singing, he plays acoustic guitar, 12-string acoustic guitar, electric guitar, bouzouki, and percussion. In 2005, Meloy wrote a 100-page book on The Replacements' fourth album, Let It Be. "I started learning guitar in 7th grade. I began writing songs shortly after that. The first recording I ever made was in 8th grade in a musical collaboration called The B-Sides. Our first album, of which only two cassettes ever existed, was entitled The Mellow Bluesmen Die: A Spiritual Progression".
'Meloy's father had always hoped that his son would become an electrician (or at least something as practical) but that's insane, considering that this was the same man who took part in giving him three first names…Colin Patrick Henry Meloy blew off his father's advice a long time ago to become a drama student, then a fledgling musician. Now he's some blend of the two.
"I was always a really introverted kid…I was always really nerdy and had a hard time making friends. (Drama) marked this remarkable sea change in me…having the theater for me was a huge deal. I met this whole crowd that was really similar to me and they shared this desire to connect and to find a different identity."'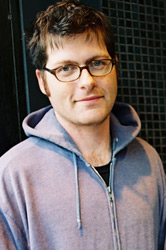 He attended the University of Oregon before going to the University of Montana, where he majored in creative writing. An interviewer once asked him 'any regrets with your music career?' "It is not possible to develop a substantial or remotely successful music career in Missoula, Montana."
He then moved to Portland, where he met future band mates Jenny Conlee and Nate Query. Prior to being in The Decemberists, Meloy was the lead singer and songwriter of Happy Cactus and Tarkio, both indie/folk bands from Montana. In 2006, Carson Ellis, Meloy's longtime girlfriend and graphic artist for the Decemberists, gave birth to a son, Henry.
'What's the worst job you've ever had?'
"Oh god. I worked at Hastings: Books and Music for a summer following my first year in college. In the back room, there was an arrow on the ground which showed you exactly how far you should be from a customer before you greeted them. When the manager had a problem with you, she would say stuff like 'Let's talk about how you can help me', or 'Let's solve this conflict together.' It chills me to this day."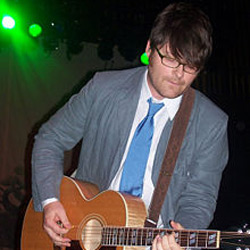 As for Meloy's solo discography, he has recorded Colin Meloy Sings Morrissey in 2005, Colin Meloy Sings Shirley Collins in 2006, Colin Meloy Sings Live! in 2008 and Colin Meloy Sings Sam Cooke, also in 2008.
In an interview, Meloy was asked '…What were they feeding you two back home in Montana?'
"Cream of the West, hamburgers from the Windbag Saloon, and coney dogs from Coney Island. That's what I recall being fed, anyway. I'm not sure if my sister ate of this ambrosia."
Meloy contributed vocals on the tracks 'Cemetery Row' and 'Twilight Distillery' on The Minus 5's 2006 Yep Roc release. Meloy also covered the Elliott Smith song 'Clementine' for a compilation of Portland, Oregon artists to support a children's charity. In 2006, he contributed the track, 'Lazy Little Ada' on The Sound the Hare Heard. In 2007, Meloy lent his voice to an episode of Lil' Bush. He has also appeared with Charlie Salas-Humara in the music video for 'Pillar of Salt' by The Thermals.
"My stage identity is certainly different than who I am in real life…I mean, if you're on stage and you're playing in front of six hundred people, there's no reason why you shouldn't be jumping and holding your arm in the air or pulling off some moves however clumsily you do them - and I do them very clumsily. But you are kind of wasting a moment if you don't do that; it's very therapeutic."
Thank you to:
http://www.decemberists.com
Portland Mercury interview
Wikipedia
Updated: August 31, 2020