Mike Mansfield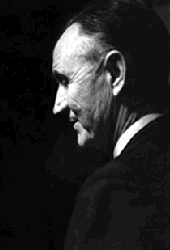 Mike Mansfield, a noted statesman of the twentieth century, represented Montana in the U. S. House and Senate from 1942 to 1977. During his legislative tenure, he served as majority leader of the Senate (1961 to 1977). Mansfield also served as U.S. Ambassador to Japan from 1977 to 1989. Mike Mansfield's remarkable career as a teacher and public servant is rooted in the state of Montana and its people.
He was born in New York City in 1903 and raised in Great Falls. He entered the Navy at the age of 14 and remained until the end of World War I. He then joined the Army and later the Marines. Mansfield served in the Philippines and China. He left the Marines in 1922 and returned to Montana where he worked in the Butte mines as a mucker and mining engineer until 1930. He had not yet completed grade school or high school but was admitted to the Montana School of Mines by examination. He studied in Butte from 1927 to 1928.
During this time, Mike met Maureen Hayes, a Butte High School teacher, who was impressed with his abilities and encouraged him to complete his education. They were married shortly after. With her financial and moral support he graduated from the University of Montana in 1933 and completed a master's degree in history in 1934. He focused his studies on Korean-American diplomatic relations. He was then invited to stay and teach at the university. He taught Latin American and Far Eastern history until 1942.
With the encouragement and support of his wife and students, he was persuaded to seek public office. After several unsuccessful attempts, Mike Mansfield was elected to the House in 1942, a year after Pearl Harbor. He spent four terms there as a representative of Montana's First District. He represented President Franklin D. Roosevelt on a fact-finding mission to China before the end of the war with Japan.
Although Senator Joe McCarthy criticized Mansfield for his views on China, he was elected senator from Montana in 1952. He became a lieutenant to Democratic Floor Leader Lyndon B. Johnson and eventually became Democratic Whip. On Johnson's accession to the Vice-Presidency in 1961, Mansfield was chosen Senate Majority Leader. Many thought the soft-spoken senator from Montana would merely be a figurehead for the hard-driven Johnson, but he proved to be a man of impeccable integrity, who believed in the equality of all senators and rarely presumed to impose his views on his colleagues. Mansfield was personally fond of President John F. Kennedy and acted as an important intermediary between the White House and Congress. The Senate accomplished a great deal under his leadership, including the passage of the landmark Civil Rights Bill in 1964.
His interest in Vietnam spanned 20 years, from early support for Ngo Dinh Diem in 1954 to the leading voice in the late 1960s to end the war in Vietnam. Mike Mansfield also played a leading role in the thawing of relations between Washington and Beijing. Mike Mansfield was appointed U.S. Ambassador to Japan from 1976 to 1988, under Presidents James Carter and Ronald Reagan.
Following his retirement in 1989 until his death on October 5, 2001, Mike Mansfield served as senior advisor to the international financial firm of Goldman, Sachs & Co. in Washington, D.C.
He is remembered in Montana through the Maureen and Mike Mansfield Library on the campus of the University of Montana and the Maureen and Mike Mansfield Center. The Mansfield Center has both an academic mission and an outreach mission.As an academic unit within the University of Montana, the Center's distinctive role on campus is to create opportunities for faculty and students to integrate Asia into teaching and the curriculum. This integration means cooperation across the lines of disciplines, departments, and professional schools. The integration is also cross-cultural in nature, meaning that Asian people and Asian perspectives, wherever appropriate, are introduced into teaching and research on campus.
In pursuing this academic mission, the Center has also secured external funding to be used in the creation of new faculty positions in the teaching of Japanese and Chinese. And it provides support for the acquisition of Asia-related materials in the library, where the Center is located.