Alex Lowe: An "Unstoppable Spirit"
Updated: August 31, 2020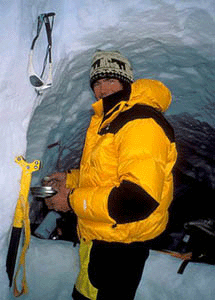 Revered for his passionate outlook on mountain climbing as well as his unique and daring approach to the climbs themselves, Alex Lowe was an inspiration to the mountain climbing community. Alex was one of the world's finest technical climbers, speed climbers and altitude skiers. He lived in Bozeman, Montana. Bozeman was Lowe's base camp, so to say— where his wife and three sons were and where he would go to rest after his adventures and prepare for his next challenge.
Alex was born in Missoula and that is where he first discovered his love for mountaineering. At a very young age he began scrambling with his father and brothers in Kootenai Canyon. While still in elementary school he began to go off to climb on his own. Later he met a University of Montana student who taught him the rudiments of climbing. Alex would later reflect when asked why he began to climb, "I guess that it's all sort of circumstantial that my parents choose to live in Montana, and they loved to hike. That's what we did. We didn't pack up the station wagon and go to Disneyland; we packed our backpacks and went off to the Beartooth Wilderness or to the Missions or the Bob Marshall." By the time he finished high school in 1976 he knew he wanted to be a climber.
The next year Alex entered Montana State University to study chemical engineering but the lure of the mountains was too strong. After completing his sophomore year* he began a journey that would take him to the ends of the earth. Lowe started in California's Yosemite and completed his journey in Tibet. Among the interim stops were Alaska, Canada, Wales, the Mediterranean Coast, the Alps, Kyrgyzstan, Antarctica, Tibet and Pakistan.
On Kazakhstan's 23,000-foot Khan Tengri, he climbed up and down the 10,000-foot route in 10 hours and eight minutes, setting a still unmatched record. He also holds the record for the Teton's Grand Traverse, climbing seven peaks in less than nine hours, squeezing it in between breakfast and dinner. Even strong experienced climbers usually require 24 hours to complete the task. While climbing on Denali in 1995, during a raging storm, he voluntarily assisted the Park Service rescue team in several hazardous evacuations. Alex carried an injured Spanish climber up the 50 degree west rib, to a waiting helicopter at nearly 19,500 feet. Said the ever modest Lowe, "It was one of those things you do because you have to do it."
Despite the fact that he'd traveled to incredible peaks all over the world, Lowe still enjoyed exploring Montana's Hyalite Canyon, which was practically in his backyard. A constant search for new experiences and challenges drew him from his home, however. Lowe had reached the summit of Tibet's Mount Everest twice and lead a number of other extremely challenging climbs. Even on a climb he'd already tackled, Lowe never seemed to take the same route more than once.
Never one to sit still, Lowe often took calculus books with him on climbs to exercise his mind. Of course, his mind was not the only thing he was exercising! Lowe did a thousand of pull-ups and dips every day before starting out on a climb. He also took a little portable espresso bar with him, downing mochas with four shots each of espresso to keep himself alert. So strong was Alex his climbing partners often called him "The Lung with Legs,"
It had always been a passionate goal of Alex to ski down an "8000 meter peak." The mountain was chosen because of its beauty and the quality of the run. Sponsored by MountainZone.com and The North Face, Lowe and a team consisting of eight other climbers set out to conquer Shishapangma, a 26,398-foot peak in southern Tibet, and ski down the south west face. Everything went well until the morning of October 5, 1999.
Over three weeks into the ascent of Shishapangma, seven members of the climbing party left the base camp to investigate the 6,000-foot chute they planned to ski down. Lowe, Bridges, and Anker split off from the other climbers to get a better view. Alex was the first one to notice the avalanche, and at first it didn't seem to pose a threat. They snapped photos of the massive slide of ice and snow, but soon they began to realize that they were standing in its ever-widening path. The avalanche soon accelerated to over 100 miles per hour and had spread across 500 feet of the slope.
The lower group ducked behind some rocks, which protected from the impact when the wall of ice and snow hit, but Lowe's group was caught out in the open with no other choice than to try to run for cover. Anker ran off to the left, throwing himself to the ground and jamming his ice axe into the snow to keep from being swept away and buried downslope. Lowe and Bridges, were not so fortunate.
Alex and the rest of the team took all the proper safety precautions and they had many years of experience, but part of professional mountain climbing is accepting the danger of going head to head with a mountain. Many believe that the beauty, exhilaration, and sublimity of being one with nature are more than worth the risk.
"It is wonderful to be back. Back among mountains that remind us of our vulnerability, our ultimate lack of control over the world we live in. Mountains that demand humility, and yield so much peace in return." -Alex Lowe, September 18, 1999
An effort is under way in his hometown Bozeman, to name a local mountain after Alex. The unnamed mountain sits south of Mount Blackmore in the Gallatin Range, at the head of Cottonwood Creek. Today it's known only by its elevation: Peak 10,031.
*Alex would eventually return to MSU to complete his degree in applied mathematics.
Updated: August 31, 2020