Will James
Updated: September 2, 2020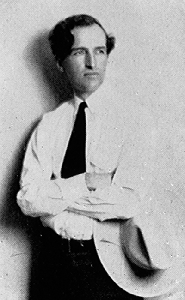 Will James drifted into town like a tumbleweed, all mystery and western flair. The facts about his life were always fuzzy, but what we do know about Will James is that he was a cowboy, an artist, and above all, a storyteller.
"Will James" was actually Joseph Ernest Nephtali Dufault, born in St. Nazaire de Acton in Quebec, Canada in 1892. Will James made up romanticized stories about his early years. In fact, his childhood as he told it is basically one big whopper. In his autobiography, Will James wrote that he was born near Judith Basin in Montana. He said he was just a year old when his mother died, and three years after that his father died in an accident while handling cattle according to this account of his life. He claimed that his father was a cowboy who had gone north to start in the cattle ranching business after Will was born. In actuality, his parents were storekeepers, not cattle ranchers, in Canada, rather than Montana. Will was not the Montana native that he claimed to be, but Montanans claimed him for their own anyway.
Will James's past becomes even more far-fetched when James tells the fictional tale of how he was adopted by a French Canadian trapper and prospector named Jean Beaupre. James made up this story no doubt to explain the French-Canadian accent he had. James wrote that he learned to read from old magazines and saddlery catalogs in scattered cow camps along Canada's southern border. The truth was that James lived with his parents until he was fifteen when he begged his parents to let him become a rider. They reluctantly agreed, and James began his new life with nothing but $10, his revolver, and some food. He couldn't even speak English yet!
Ever since he could remember Will had a soft spot for horses and riding. He was on horseback wherever he went after he left home. During all those years of roaming he never thought of trying to make a living by using his artistic talents, but he still drew at every available opportunity. Grabbing a stub of a pencil and whatever material he had, he'd scribble away by the campfire like he used to lay on the kitchen floor when he was four years old drawing the neighbor's animals on wrapping paper.
He was beaten and battered by life in cow camps, but he loved that life and the horses. After many years, one horse in particular brought about a major turning point in Will's life. Will James was injured when thrown from a horse that bucked too hard. It pitched him into some railroad tracks, giving him a severe concussion and a deep cut on his scalp. Bedridden, he began to sketch with more enthusiasm than ever before.
While unable to ride, he suddenly found himself making a career out of his artwork. He sold his first drawing for $25, which was a large sum of money to Will. Moving out to New York, he illustrated and painted covers for magazines and sold a few of his sketches to Life magazine in 1921. He went back west that same year, trading in the big city life to return to the mountains and blue skies of the West.
In 1923, unable to make ends meet, with his saddle still hanging up in the stable, a friend of James's convinced him to try his hand at writing. Much to his surprise, his first article "Bucking Horses and Bucking Horse Riders" was quickly snapped up and published in Scribner's magazine. Among his best known books were Smoky, published in 1926, which won a Newbery medal, and Lone Cowboy, Scorpion, Sand, and Home Ranch. He also wrote tons of illustrated short stories. Will James published a total of 24 books, two of which were made into movies.
When he had enough money James bought a 12,000-acre studio-ranch near Billings at the foothills of the Pryor Mountains where his horses had the run of the pastures. There he continued to paint, draw, write, and maintain his wild, carefree cowboy persona. He claimed Montana as the place of his birth, the home of his heart, and his final resting place.
Updated: September 2, 2020