Phil Jackson
Updated: September 2, 2020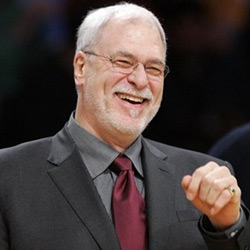 Phil Jackson was born in Deer Lodge, Montana on September 17, 1945. He is a retired American basketball player and current coach of the Los Angeles Lakers of the National Basketball Association (NBA). Jackson once said that "My father was the superintendent of the churches in the state of Montana. He was content in his beliefs...He would turn the other cheek. He was truly a man of peace. I think that my carriage and my demeanor are very much what the image of my father was like." Jackson is known for a holistic approach to coaching which earned him the nickname "Zen Master". He also applies Native American spiritual practices as documented in his book Sacred Hoops.

He said in an Esquire article that "your problems never cease. They just change."

Jackson, a low-scoring specialty player was nicknamed "Head 'n' Shoulders," as he used his limited skills to the maximum. Jackson played college ball at North Dakota under future NBA head coach Bill Fitch. Angular, thin and already at his full height of 6' 8", Jackson used every inch of himself to advantage.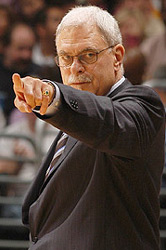 Jackson is a study in adaptability. Growing up in the 1950s, he conformed to the wishes of his parents, who were evangelical ministers. As a college student in the 1960s, he followed a popular path, expanding his spiritual opportunities in the classroom and in life. As a basketball player in the 1970s, he adopted the New York Knicks' unselfish, team-oriented style of play.
Jackson was drafted on the second round by the Knicks, the 17th overall selection. He underwent surgery and missed the Knicks' first championship season in 1969-70, but was a key reserve on the team that won the title in 1972-73. Jackson annoyed opponents with his awkward, almost clumsy defensive and rebounding style as he became a favorite with the fans at Madison Square Garden because he played all-out every minute, rode his bicycle to games from his Manhattan loft and insisted on keeping his longish hair and unconventional beliefs.
Jackson played in New York until 1978, when he went to the New Jersey Nets as a player-assistant coach. He retired in 1980 after 13 years in the league. He has said "there was a time in my life -- I spent fifteen years in my career with New York and New Jersey -- where I always felt if I didn't get those three or four months in Montana to camp, to be on the land, to actually live on the ground and be connected with the ground, then I wasn't really connecting myself with my roots, with that pioneer spirit that is so deeply a part of me."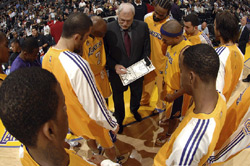 After a year he rejoined the Nets and did some television commentary, then he returned to coaching with the Albany Patroons of the Continental Basketball Association, also coaching summers in Puerto Rico. In five seasons in Albany, Jackson guided the Patroons to a league title and won a CBA (Continental Basketball Association) Coach of the Year Award. Jackson left the Albany Patroons coaching job after the 1986-87 season with a 117-90 career record and landed a job as an assistant coach with the Chicago Bulls.
Jackson's break came on Dec. 17, 1988. The Bulls were losing by 14 points as Jackson took over in what normally is a placeholder role, tinkered with the team's defense and told the players to just go out and play. Player Horace Grant later told The New York Times, "It was like we were let out of a cage. We won the game because we were so relaxed, and we knew that Phil should become a head coach."
The Bulls came back and won 69 games in 1996-97 to match the second-best mark in league history, and successfully defended their NBA title by beating the Utah Jazz in six games in the 1997 NBA Finals; the Bulls' fifth Western Conference rival in five trips to the title series. And in 1997-98, the Bulls completed their "repeat three-peat," again beating the Jazz in the NBA Finals.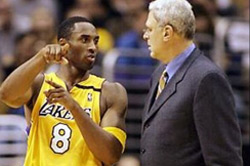 In 1999, Jackson moved to Los Angeles to coach the Lakers. He convinced the team on his offensive and defensive philosophies, which encouraged Shaquille O'Neal and Kobe Bryant to the best seasons of their careers. The result was three straight NBA championships, something the Laker team had never accomplished before.
In 2004 Jackson left the team to take time off from coaching, but re-joined the Los Angeles Lakers as their head coach on June 14, 2005, less than one year after leaving. Jackson lead the Lakers to two more NBA titles in 2009 and 2010.
Jackson retired from coaching in 2011 as the NBA's career leader in playoff victories and playoff winning percentage, with eleven NBA titles, the most ever by an NBA coach.
Thanks to Mike Sager, Esquire interview!
Thank you to:
Wikipedia
Updated: September 2, 2020