Jesse Tyler Ferguson
Updated: September 2, 2020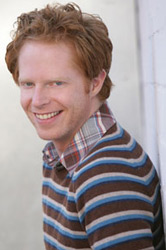 At age 8, Ferguson decided to become an actor. He joined the Albuquerque Children's Theater and was a member for 6 years. In high school, Jesse played Albert Peterson in Bye Bye Birdie, General Bullmoose in L'il Abner and also joined the speech and debate team. After graduating from high school, he attended the American Musical and Dramatic Academy (AMDA) in New York City. He worked mainly in off-Broadway and Broadway shows. He is a member of American Federation of Television and Radio Artists (AFTRA), Actor's Equity Association (AEA), and the Screen Actor's Guild (SAG).
He has appeared in the films Untraceable and Ordinary Sinner, on the TV shows The Class, Ugly Betty, Sally Hemings: An American Scandal, Mercury In Retrograve and the Rosie O'Donnell show.
Ferguson has performed in the musicals Cinderella, Peter Pan, The King and I, Annie Get Your Gun, Hello Dolly!, The Boys from Syracuse, Rhythm Club, Summer of '42, On the Town, Newyorkers, Little Fish, twice in Hair, Embarassments, and in 3 different theatres for The 25th Annual Putnam County Spelling Bee.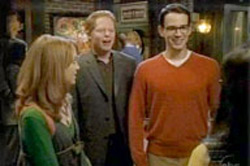 Ferguson has appeared in the plays Corpus Christi, Most Fabulous Story Ever Told, Kean, The SantaLand Diaries, The Complete Works of William Shakespeare (Abridged), Where Do We Live? and Comedy of Errors.
He has received a 2005 Drama League Award nomination for Distinguished Performance in The 25th Annual Putnam County Spelling Bee and a 2008 Drama League Award nomination for Distinguished Performance in A Midsummer Night's Dream.
Ferguson's experience with The 25th Annual Putnam County Spelling Bee has been fulfilling, as he says of Leaf, "He is very close to who I am because I helped to create him...I was, as a child a very shy, awkward kid. I was artistic and creative but I didn't have very good social skills. I sometimes think that I still don't!....so all that is definitely part of who Leaf is." However, "I am a horrible speller and am in constant fear that I am going to spell one of the memorized words wrong in the show. I actually spelled 'vulpine' wrong one night. It came a part in the show when we are rapidly moving through spelling words...we just pretended that it didn't happen, and hopefully no one noticed."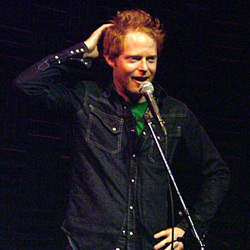 In an interview, Ferguson was asked about his bio in the show program for On the Town, 'in your bio you mentioned Starbucks a lot ...'
He replied "I don't have to (do that anymore). It's funny, because On the Town was my first big break. I played Barnaby in Hello, Dolly! and that was the only other speaking role I had before. I was a Cowboy and an Indian in Annie Get Your Gun; I was always in the ensemble. I had this idea to put all these random jobs in my bio: 'I appeared on Broadway - at the 84th and Broadway Starbucks - and Off Broadway - at numerous temp jobs.' I had so many actors come up to me and say 'Oh, I loved your bio for On the Town. It made me feel like there's hope for me. It can happen.'"
When asked if there were any dream roles that you've always wanted to play, Jesse said "I always joked that I'd love to head an all-male production of Annie. Adam in The Most Fabulous Story... was so great. I love those big, juicy roles that go through such an interesting journey. I'd love to do something like that again. I'd like to get into more Shakespeare..."
Thank you to:
http://www.broadwayworld.com
http://www.talkinbroadway.com
Wikipedia
http://www.imdb.com!
Updated: September 2, 2020