Katie Blair
Updated: September 2, 2020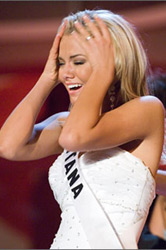 Katie Blair was born in Billings, Montana on December 29, 1987. She is an American beauty queen, who held the Miss Teen USA 2006 title. She is the first woman from Montana to win a major pageant title.
Blair represented Montana in the Miss Teen USA 2006 pageant held in California in 2006, and became the first Montanan to place in the pageant. Outgoing titleholder, Allie from Ohio, crowned Blair as the new Miss Teen USA. Prior to Blair's win in the nationally televised pageant, Montana had been the only state in the competition's 23 year history never to have had a semi-finalist.
A Billings Gazette article said "A fashion stylist helps choose Blair's public wardrobe. She has to steer clear of stripes and dots, which don't photograph well. The stylist also put black, Blair's favorite color, off-limits, deeming it too harsh and brash to fit the pageant winner's image…Blair spent four days getting ready for the statewide teen pageant. She bought new shoes to wear while she modeled her swimsuit at the state competition, but her other outfits came from her closet. She loves sports, ran a half-marathon at age 15 and enjoys hiking, camping and watching football."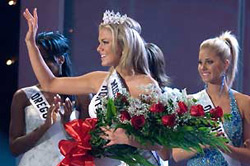 Blair's Miss Teen USA winnings included a one-year modeling contract with Trump Model Management and a scholarship to The School for Film and Television in New York. She also earned a guest appearance in the NBC soap opera Passions. In 2007, Blair passed down the Miss Teen USA title to Hilary of Colorado.

Blair spent her year titleholder in New York City, living in a Trump Place apartment with Miss Universe and Miss USA. During her reign, Blair made appearances to raise money for charity. She graduated from Billings West High School in 2006, and had planned to attend Louisiana State University, but postponed her commencement of college for her reign.
In September 2006, she returned to Billings, Montana for her official homecoming as Miss Teen USA. The city council announced the day as 'Katie Blair Day' and awarded her a key to the city. She crowned Chelsea, also from Billings, as the next Miss Montana Teen USA 2007.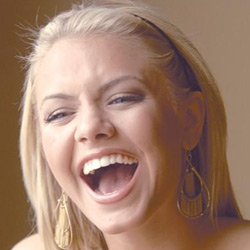 Blair strred in Donald Trump's new MTV reality show Pageant Place along with Rachel Smith, Hilary Cruz and Riyo Mori. "I leave my stuff out," admitted Katie Blair, 2006's Miss Teen USA, in a New York Daily News article by Adams Nichols. "I don't put out the trash. It's disgusting and I don't touch it. [Miss USA] always hated that.... You have to get used to knickknacks, people's pet peeves. Everyone has their things they worry about and make a big deal over."
Katie plans to attend Louisiana State University, where she will major in advertising and marketing and pursue an associate's degree in fashion design. She says her dream job is to one day buy, sell and design clothes for her own company off Madison Avenue in New York City.
"I did not know the correct way to eat asparagus is with two fingers. It seems so impolite to be sitting in a fine restaurant and pick up asparagus with your fingers."
Thank you to:
http://www.missteenusa.com/
Wikipedia

Updated: September 2, 2020