Eric Bergoust
Updated: September 2, 2020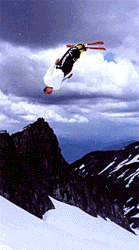 How many times have you heard the statement, "Don't try this at home"? Eric Bergoust obviously never did. When Eric was growing up in Missoula he started a stuntman club. "The intention was to jump off the roof," he said. "Nobody wanted to do it, so nobody joined my club." Eventually he persuaded his younger brothers Dan and Arlan to join him as he did flips off his two-story roof and landed on an old mattress. From the beginning, Eric loved the "rush." He first discovered aerials watching the 1985 coverage of the Breckenridge World Cup.
Soon the 13-year-old Bergoust and his brothers were building hand made jumps and learning to soar over the Lost Trail Ski Area. Their father, Eric's number one fan, once printed up tee-shirts that said, "The Flying Bergoust Brothers." During the 1988 Olympics in nearby Calgary, aerials were a demonstration sport and Eric prides himself with being the first spectator through the gate. He and a friend slept in a car outside the venue the night before. As one of the sport's biggest fans Eric ate part of the jump, which is made out of snow, "just to say I could." Now that's a fan!
Despite his daredevil antics, success came slowly for Eric. He had to work hard to overcome his initial fear of really big air, and the lack of permanent training facilities in his area didn't help much. "I didn't land (a jump) for three years, but I just loved to jump. I had faith and determination that I would figure it out someday." Over the next ten years Eric trained harder than his competitors, overcame several injuries, and worked his way to the top of the sport. All of his hard work and daring have paid off. Eric's resume includes 13 World Cup victories, two U. S. Championships, the Olympic Gold medal from Nagano in 1998, and three of the highest scores ever awarded in aerial ski jumping. "It's been a huge challenge," he said. "The thing I'm most proud of is how hard it was to achieve."
Currently Eric sports several earrings, a goatee, and distinctive sideburns, which he jokingly claims are sponsored by "Nike", since they resemble the famous swoosh. He continues to live in Montana, but trains in Lake Placid, New York. Although he lives up to his reputation as a "daredevil", Eric feels the expression doesn't give enough credit to the time and work he has put into his sport. His teammates on the U. S. Ski Team admire his intense work ethic and singular focus. Eric is so dedicated that at bedtime after a full day of practicing, he analyzes videos of his jumps. Eric predicts aerialists will be doing more difficult maneuvers in the future, possibly a "quint-twisting" flip, or a flip with five twists. We look foreward to see Eric "quint-twisting" in Salt Lake, where he's a favorite in the upcoming 2002 Olympics.
Eric has his own webpage at http://www.airbergy.com/
Learn More:
Updated: September 2, 2020