Eden Atwood
Updated: August 31, 2020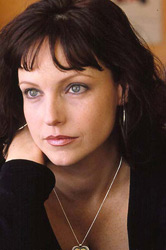 Eden Atwood was born in Memphis, Tennessee in January 1969 and moved to Montana at age 5 following her parents' divorce. Eden moved to Montana with her mother, the daughter of Pulitzer Prize winning author, A.B. Guthrie, Jr. Eden's mother kept her love of music alive by encouraging her participation in musicals. She is a jazz singer who makes her home in Missoula, Montana. Her father, Hub Atwood, was a writer and arranger for the likes of Frank Sinatra, Harry James, Stan Kenton and Nat King Cole.
At 15, Eden was fronting a busy band of musicians twice her age in her hometown. Eden left two years later to attend the University of Montana's drama department, then left Missoula for Chicago. In Chicago, Eden attended the American Conservatory of Music. Eight years of classical piano had provided her with a solid musical foundation but Eden wanted to able to write and arrange her own material. She had acting and modeling jobs in New York, Los Angeles and Paris.
In 1992, Eden was tapped for recurring role on ABC's, The Commish and that same year she starred for nine months on the ABC daytime drama, Loving. It was during this time that Eden made her Manhattan singing debut in the Algonquin Hotel. Soon she was singing at Tavern on the Green and Michael's Pub. A guest star role on Paramount's, The Untouchables brought Eden back to Chicago where she was the headliner at the Gold Star Sardine Bar.
Eden was born with a genetic condition called AIS (androgen insensitivity syndrome). She is outspoken about AIS, working with national organizations and discussing her condition openly in liner notes on the "Waves" album.
While she's too jazzy to be considered a cabaret performer, Eden does emphasize ballads, and even her more jazz-oriented material maintains the integrity of the tune. She has given a ballad treatment to the doo-wop classic "Only You" and the traditional "Auld Lang Syne," in both cases taking great pains to lend additional meaning to the lyrics. Jan Merod from Jazz News said "In a culture that has demoted lyrical beauty, Eden Atwood's voice lends dignity…"Eden's style is more akin to an early Ella Fitzgerald (some scat singing, but not on every tune), while singing a few straight blues tunes (including her own composition, "Cat on a Hot Tin Roof", from the album of the same name, and 'Cow Cow Boogie' from "No One Ever Tells You") and injecting a blues singer's emotional resonance on many tracks from her most recent album, "A Night in the Life," she's firmly a singer of standards.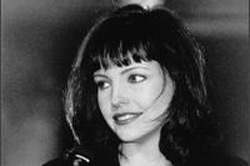 Eden's albums on Concord are: "No One Ever Tells You" 1993, "Cat on a Hot Tin Roof" 1994, "There Again" 1995 and "A Night in the Life" in 1996.Her music shows the influence of many classic jazz and pop singers, including Ella Fitzgerald, Carmen McRae, Sarah Vaughn, Rosemary Clooney, Julie London and Billie Holiday.
In 1993, Marian McPartland of Piano Jazz fame heard Eden's self-produced CD, "Today" and forwarded it to Concord Records President, Carl Jefferson. He signed Eden immediately to a three record deal. Eden remains the youngest artist ever signed to the Concord label. "Today" was re-released under the new title "No One Ever Tells You", the title of a song that Eden's father had written for Frank Sinatra. Eden produced four CD's on the Concord label.
Eden headlined the first ever Bangkok Jazz Festival, performing some of His Majesty, The King of Thailand's compositions.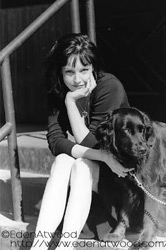 Eden now makes her home in Missoula, MT teaching private vocal students, working with attachment disordered children and touring.

She has been featured on NPR's Piano Jazz with Marian McPartland. Starbucks Coffee, Eddie Bauer and the Brooks Brothers have all put tracks of Eden's on their compilation CD's alongside Billie Holiday, Sarah Vaughan, and Nancy Wilson. Jeff Snyder said in a Victory Review "It would seem that Eden Atwood is simply destined for stardom."
Learn More:
Wikipedia
Mamalode: My Secret
Updated: August 31, 2020