Jeff Ament of Pearl Jam
Updated: September 2, 2020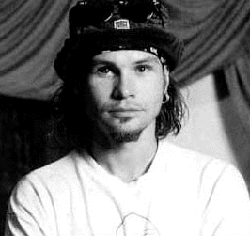 Anyone who's been listening to music for the last ten years or so has probably heard of Pearl Jam, Mother Love Bone, or Green River. You might even know the name Jeff Ament. Ament, a native of Big Sandy, Montana helped bring the Seattle music scene under the pop culture spotlight with the help of his bass guitar. And even though some would say that Seattle should have remained underground or that Pearl Jam was never really a grunge band in the first place, no one can deny that Mother Love Bone, helped pioneer the Seattle sound. And Ament was there from the beginning.
After Andrew Wood (of Mother Love Bone) died in a coma, bandmates Stone Gossard and Jeff Ament joined Soundgarden's vocalist Chris Cornell and drummer Matt Cameron in a tribute album to Wood titled "Temple of the Dog." These four were joined by San Diego vocalist Eddie Vedder. After recording the album Vedder, Gossard, and Ament found drummer Dave Krusen and grabbed guitarist Mike McCready and formed Pearl Jam.
Pearl Jam has been one of the most successful groups of the '90's. They've toured all over the world. They gained popularity with some a few years back after canceling a tour in protest of Ticketmaster's high prices and service charges. Ament hasn't cut off his Montana roots either. He now owns a house outside Missoula and Pearl Jam has played several shows in Montana college towns during the last few years. In 1995 they played to a crowd of 7000 in the Harry Adams Field House and in the summer of 1998 they kicked off a tour in support of their then new album "Yield" at the Washington-Grizzly Stadium.
This time, in the football stadium, they performed for 22,000 plus a few extra fans watching from up on Mount Sentinel. It was a warm summer night and turned out to be one of the largest concerts ever held in the state. Before the show, Ament took part in a discussion and protest of bison slaughter outside Yellowstone National Park. The proceeds from that evening's record-breaking event were donated to several worthy causes including a YMCA skateboard park, a program to refinish some local basketball courts, and a medical clinic.
But Pearl Jam isn't the only thing Ament has brought home. In May of 1999 he returned to Missoula, bringing another band he's been touring with: Three Fish. Three Fish, who've been through Missoula in the past, have a much different style than Pearl Jam. For starters, they incorporate Turkish and Egyptian instruments to create a more polyrhythmic beat. Rock on Jeff!
Updated: September 2, 2020