Brian Schweitzer
Updated: August 31, 2020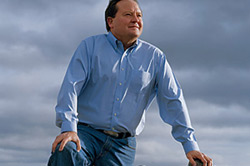 Brian Schweitzer was born in Havre, Montana on September 4, 1955. Schweitzer is a Democrat and was the governor of Montana, serving from January 2005 to January 2013. He is a farmer and rancher who held no elected office before being elected as the first Democratic Governor to serve Montana in 20 years. "I challenge you to be dreamers; I challenge you to be doers and let us make the greatest place in the world even better." Schweitzer had one of the highest gubernatorial approval ratings in the nation, with polls regularly showing a rating of around 70 percent.
He was the 4th of 6 children born to a German-Russian father, and an Irish mother. The grandson of Montana homesteaders, he grew up on his parents' cattle ranch in the Judith Basin. Governor Schweitzer went on to earn a Bachelor of Science degree in international agronomy from Colorado State University, and later earned a Master of Science degree in soil science from Montana State University in 1980. When he finished school, Schweitzer worked as an irrigation developer on projects in Africa, Asia, Europe and South America.
He spent several years working in Libya and Saudi Arabia and speaks Arabic. He has visited 37 countries across the world. Schweitzer oversaw the building of major irrigation projects and the construction of the world's largest dairy farm in Saudi Arabia.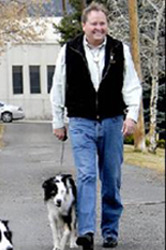 Schweitzer married Nancy Hupp in 1981; they have three children: Ben, Khai, and Katrina. He returned to Montana in 1986 to begin a ranching and irrigation business in Whitefish.
Bill Clinton appointed Schweitzer to the United States Department of Agriculture as a member of the Montana USDA Farm Service Agency committee, where he worked for seven years.
In 2000, Schweitzer ran for U.S. Senate against the Republican incumbent Conrad Burns, losing by 51 to 47 percent. In 2004, Schweitzer announced his candidacy. His running mate was John Bohlinger, a Republican state senator. He won the general election by a margin of 50 to 46 percent over Montana Secretary of State Bob Brown. The governor's dog, a collie named Jag, regularly accompanies him on work days at the Capitol, as well as other official occasions. Brian Schweitzer has said "I know that Montana is the greatest place in the world to raise a family, to start and grow a business. You know it, and I know it and now we will tell the world."
In March 2005, Schweitzer suggested that Montana's National Guard troops be recalled from service in Iraq to assist firefighting during Montana's wildfire season. He has also gained national attention for his focus on converting Montana's coal reserves into fuel, which he has said is one way to get America off foreign oil. Schweitzer has been interviewed by 60 Minutes.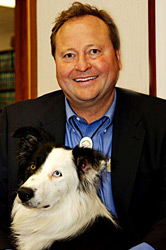 On May 3, 2006, Schweitzer granted posthumous pardons to 78 persons convicted of sedition during World War I for making comments that were critical of the war. These were the first posthumous pardons in Montana history, but the convictions had become notorious in recent years because Montana's treason law had been one of the harshest of its time. One man went to prison for calling food rationing "a joke," while others were targeted because they refused to physically kiss a U.S. flag. At a public ceremony Schweitzer said "in times when our country is pushed to our limits, those are the times when it is most important to remember individual rights."
Under Governor Schweitzer, there were more jobs at higher wages than anytime in history, and he cut more taxes for more Montanans than any other time in the state's history, including a $400 rebate to Montana homeowners. He also increased Montana's electrical generation capacity more during his administration than the previous 16 years combined where the state is one of only two states in the country to have increased oil production.
But what about the kids? Schweitzer invested more in both K-12 and higher education than any previous administration, also increasing the number of children on the Children's Health Insurance Program by more than 3,000! It now provides quality healthcare to more than 16,000 kids. He has been quoted as saying "Good ideas are the backbone of good government."
Schweitzer's reputation has led him to be mentioned by many political pundits as being among the top candidates for Vice President under Democratic nominee, Barack Obama, in the 2008 presidential election.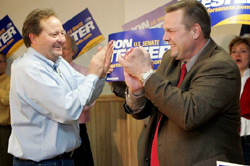 Schweitzer is against gun control and a passionate critic of the REAL ID legislation. He wants to end parole for repeat violent offenders and refuses special interest & PAC (Political Action Committee) money for his campaign (in November 2004) and supports More Federal Funding for Health Coverage. He opposes privatizing Social Security and opposes making income tax flatter & lower (from September 2000). "We can push Montana forward and we can do it without raising taxes."

"We have always been dreamers in Montana."
Thank you to
Updated: August 31, 2020