John Misha Petkevich
Updated: September 2, 2020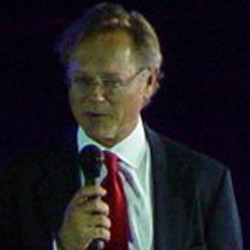 John Misha Petkevich was born in 1949. He is an former American figure skater. He won the 1971 U.S. Figure Skating Championships in men's singles and the North American Championship in the same year, and competed at both the 1968 and 1972 Winter Olympics (where he finished 6th and 5th). His best finish at the World Figure Skating Championships was 4th in 1972; he placed 5th in 1969, 1970, and 1971.Petkevich was known as a particularly dynamic free skater for his time.
In 1970, while a student at Harvard University, Petkevich founded An Evening with Champions, a long-running annual ice show that raises money to benefit the Jimmy Fund, an organization that supports cancer research and the Dana-Farber Cancer Institute.
In an article by ESPN readers learned that "'Misha is an artist…If he has a good night and a good audience he can be fabulous.' Petkevich has never found skating school figures emotionally fulfilling. He has had plenty of opportunity to learn precision—his parents used to arrange for private half-hour lessons and rented a private patch of ice for him when he was 2—but at 20 Misha feels he is only now getting into the groove.

He enrolled in Harvard and lived in his Cambridge dorm until his mother arrived from Great Falls, Montana. She was appalled by her son's weight gain and the institutional food he was eating. Leaving her husband home, Mrs. Petkevich moved to Cambridge, rented an apartment and cooked dietetic meals…for her son. He lost weight but, unfortunately, lost strength, too...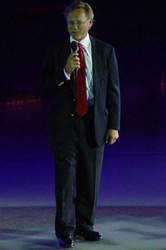 Free skating is Petkevich's game and for him always a gamble. He acquired a rebel reputation some years ago by showing up for a competition in a turtleneck instead of the customary bolero jacket. The judges were horrified, and one wrote a chiding letter to Mrs. Petkevich for permitting such teenage folly. On Friday night Petkevich appeared for the freestyle in a black jump suit and white-lace shirt made from brassiere material—an outfit specially designed by Bergdorf-Goodman. From the start the crowd showed its partiality…Misha got bursts of applause and shouted encouragement."
Petkevich was the recipient of an unusual trophy. At the 1947 World Figure Skating Championships, Ulrich Salchow was particularly impressed by Dick Button's skating, and gave him one of his own trophies. Following the 1972 Olympics, Button passed on Salchow's trophy to Petkevich, who has stated that he also intends to keep up the tradition by presenting it to another young skater someday.
Following his competitive career, Petkevich attended Oxford University as a Rhodes Scholar, earning a Ph.D. in cell biology. Later he pursued a career in investment banking. He has also served as a figure skating analyst for NBC, CBS, and ESPN.
IPetkevich has written Figure Skating: Championship Techniques, one of the standard reference works on figure skating technique which was published by Sports Illustrated Winners Circle Books in 1989, Figure Skating, also published in 1989 and The Skater's Handbook in 1984.
In 1974, he placed 5th with 24 points on an obstacle course, winning $2, 400. His personal bests include the 2nd Preliminary obstacle course in 1974, with 33.40 points.
Petkevich's personal mood is a key to his performance. "'I thought of speed, of feeling strong,' he said….in the same ESPN article. 'Sometimes the building is large and you pull yourself up. You feel strong and you become large and the building becomes small.'"
Thank you to:
Skating Photos
Wikipedia

Updated: September 2, 2020