Greg Mortenson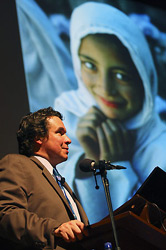 Greg Mortenson was born December 27, 1957. He is a mountain climber, former United States Army medic, and humanitarian from Bozeman, Montana. From 1958 to 1973, Mortenson grew up on Mount Kilimanjaro in Tanzania, where his parents were Lutheran missionaries. His father was the founder and development director of the Kilimanjaro Christian Medical Center, Tanzania's first teaching hospital. His mother Dr. Jerene founded the International School Moshi.
Mortenson attended Ramsey High School in Roseville, Minnesota from 1973 to 1975 and served in the U.S. Army in Germany. He attended Concordia College from 1977 to 1979, and later graduated from the University of South Dakota in 1983 with an Associate Degree in Nursing and a Bachelor's Degree in Chemistry.
In a CNN article by John Blake, he said "Mortenson was a big brother, protector and friend. He took his sister Christa to the Indy 500, the Kentucky Derby and Disneyland. But one of her favorite pastimes was watching the movie, Field of Dreams. Their mother promised to take Christa to the field where it was filmed for her 23rd birthday in July 1992, but she died from a massive seizure in her sleep on the morning of the trip. Mortenson decided to honor Christa by climbing K2."
In 1993, Mortenson went to climb K2, the world's second highest mountain, in northern Pakistan. "I felt as if there was an angel holding my hand, trying to take me to the top," he said. "When I lost that hand, I decided I better go down." Two local Balti porters took Mortenson to the nearest city, but he took a wrong turn along the way and ended up in Korphe, a small village, where he recovered.
What Mortenson found on his descent would test his will as much as K2. He would stagger into a remote Pakistani village, have his heart "torn out" by an unexpected encounter, and meet a girl who altered his life with one question: "Can you help me build a school?" After a frustrating time trying to raise money, Mortenson convinced Jean Hoerni, a Silicon Valley pioneer, to found the Central Asia Institute. A non-profit organization, CAI's mission is to promote education and literacy, especially for girls, in remote mountain regions of Pakistan and Afghanistan. Since 1996, Mortenson has helped build 63 schools for children in Pakistan and Afghanistan through the nonprofit group, the Central Asia Institute.
Mortenson told the girl that he would build a school. Fifteen years later, he has helped build 62 more schools in Pakistan and Afghanistan. They are his 'Field of Dreams'. "I didn't know it would change my life forever." He has said "Once you educate the boys, they tend to leave the villages and go search for work in cities. But the girls stay home, become leaders in the community and pass on what they've learned. If you really want to change a culture, to empower women, improve basic hygiene and health care, and fight high rates of infant mortality, the answer is to educate girls." Even though he didn't place Christa's necklace on the top of K2, Mortenson said he left a better tribute for her: a school for girls who are just as brave as she was. "That's a much better honor to Christa than climbing a mountain. I think she would be happy."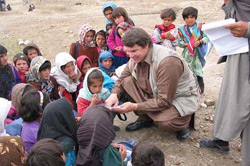 In the process of building schools, Mortenson has survived an 8-day armed 1996 kidnapping in the tribal areas of Waziristan in Pakistan, escaped a 2003 firefight between Afghan opium warlords, and received hate mail and threats from fellow Americans for helping educate Muslim children.
Mortenson believes that education and literacy for girls globally is the most important investment all countries can make, and the best way to 'fight' terrorism is to build schools free of the Taliban's oversight. Because of this, several of the school's Mortenson's group built were destroyed by the Taliban, but the communities rebuilt them.
Mortenson and David Oliver Relin are co-authors of the New York Times best selling book Three Cups of Tea. On BBC Radio in 2008, the BBC reported that Greg Mortenson had set up over sixty schools and as a result over 25,000 children had been educated. Pennies for Peace is a program Mortenson launched to involve American school-children in fund-raising efforts for the schools in Afghanistan and Pakistan.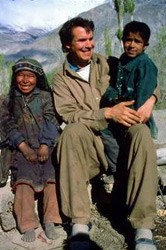 Mortenson has received the following awards: the 1975 US Army Commendation medal, 1998 American Alpine Club David Brower Conservation Award, and the 2003 Climbing Magazine 'Golden Piton Award' for humanitarian effort. In 2003, he received the Vincent Lombardi Champion Award for humanitarian service, the "Peacemaker of the Year" from Benedictine Monks in Santa Fe, New Mexico, the Outdoor Person of the Year in Outdoor Magazine and Salzburg Seminar fellowship. In 2004, Mortenson won the Freedom Forum 'Free Spirit Award' from the National Press Club and the Jeanette Rankin Peace Award, Institute for Peace.
In 2005 he won the Men's Journal 'Anti-Terror' Award by Senator John McCain and the Red Cross "Humanitarian of The Year" in Montana; in 2006 there was the Golden Fleur-de-lis Award from Italy. In 2007 Mortenson received the Rotary International Paul Harris Award and the Dayton Literary Peace Prize. As of 2008, Mortenson has received the National Award for Citizen Diplomacy from the Citizen Center for Diplomacy, the Courage of Conscience Award, and the 2008 National Award for Citizen Diplomacy from the Citizen Center for Diplomacy.
Mortenson has accepted honorary Doctorate degrees, from Concordia College in Minnesota, the University of South Dakota, Montana State University, Villanova University in Pennsylvania, San Francisco University, University of Washington, Lewis & Clark College in Washington, and Seattle University. He is married to Dr. Tara Bishop, a clinical psychologist, with whom he has two children.
Three Cups of Tea has won the Kiriyama Prize Nonfiction Award, Time Magazine Asia Book of The Year, the Nonfiction Award from Pacific Northwest Booksellers Association, the Montana Honor Book Award, a runner up for the Dayton Literary Prize Nonfiction Award, in People Magazine Critics Choice and was featured in Publisher's Weekly as a starred review.
"The real enemy is ignorance and ignorance breeds hatred. You can drop bombs, you can build roads, but if you don't educate girls, the society is not going to change."
Thank you to:
http://www.gregmortenson.com/
CNN article
Greg_Mortenson Quotes
Wikipedia