Evel Knievel
1938 - 2007
Updated: September 2, 2020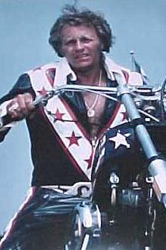 Born in Butte, Montana on October 17, 1938, Robert Craig Knievel was raised by his grandparents. At age eight he saw Joey Chitwood's Auto Daredevil Show, which he credits for his later career choice to become a motorcycle daredevil.
Outstanding in track and field, ski jumping and ice hockey at Butte High School Knievel went on to end high school after sophomore year and get a job in the copper mines. He was soon promoted to surface duty where he drove an earth mover. Knievel was dismissed when he made the earth mover do a motorcycle-type wheelie and drove it into Butte's main power line. The incident left the city without electricity for several hours. Shortly after, he formed the Butte Bombers semiprofessional hockey team, acting as owner, manager, coach and player.
He joined the motocross circuit and had moderate success, but he still couldn't make enough money to support his family. In 1965 he began his daredevil career when he formed a troupe called Evel Knievel's Motorcycle Daredevils, a touring show in which he performed stunts such as riding through fire walls, jumping over live rattlesnakes and mountain lions and being towed at 200 miles an hour behind dragster race cars holding on to a parachute. Evel did everything himself, including truck driving, promoting and performing his ever longer and more dangerous motorcycle jumps.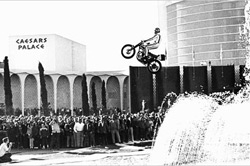 In the beginning he charged $500 for a jump over two cars parked between ramps. He steadily increased the length of the jumps and then on New Years Day 1968, he jumped 151 feet across the fountains in front of Caesar's Palace in Las Vegas. After that, he decided to make it his goal to jump the Grand Canyon. In the next few years the payment for his performances increased to $1 million for his jump over 13 buses at Wembley Stadium in London and on February 28, he set a new world record by jumping 19 cars in Ontario, California. He got paid over $6 million for the Snake River Canyon jump. On October 25, 1975, Knievel successfully jumped 14 Greyhound buses in Ohio. After this jump, he announced his retirement. Evel jumped 7 Greyhound Buses in 1976 at the Seattle Kingdome. Despite the crowd's pleasure, Knievel felt that it was not his best jump, and apologized to the crowd.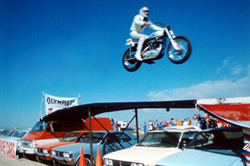 With all the jumping, there had to be crashes. Knievel broke his collarbone and shoulder in a motocross accident, suffered numerous comas (one for 30 days, another for 29 days), a severely broken arm and several broken rib, 3 serious concussions, broke his left wrist, right knee, and two ribs, suffered a crushed pelvis and femur, fractures to his hip, broke his wrist and both ankles, broke his right leg and foot, his hip and collarbone, got a compound fracture of his right arm and broke both legs as well broke his back. He said in an interview with Vanity Fair, "Years ago I was just helter-skelter. I defied death. And I'm still doing it - only from a bed instead of a bike. There's just no quit in me. There's just no stopping me. I went through life big-bang-bada-boom-bada-boom. Now it's just bing, but I'm still Evel Knievel. I am. There's just nothing you could do to stop me."
Considering all these injuries, why did Knievel keep jumping? Well, he believed in the importance of "keeping his word". He stated that although he knew he may not successfully make a jump or even survive, he followed through with each stunt because he gave his word that he would. Knievel would preach an anti-drug message to children and adults before each of his stunts.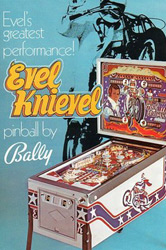 Later in the decade, Ideal Toys released a bendable Knievel action figure in 1974. In 1977, Bally released the Knievel pinball machine as the 'first fully electronic commercial game'.
He jumped for the last time in March 1981 in Hollywood, Florida. In 1999, Knievel was inducted into the Motorcycle Hall of Fame.
In 2003, Knievel signed over exclusive rights, authorizing the production Evel Knievel: the Rock Opera, based on Knievel's life.
Evel Knievel had partnered with Six Flags St. Louis to name a new wooden coaster after "America's Legendary Daredevil." The amusement park in Eureka, Missouri, opened the ride 'Six Flags Evel Knievel roller coaster' on June 20, 2008.
International media attention to Evel's heroic, death-defying feats and his popular messages to the world's youth, promoting abstention from drugs and a healthy lifestyle with a positive mental attitude quickly transformed him into a national icon. His motorcycle and memorabilia display by the Smithsonian Institute in their Museum of American History in Washington, D.C. has immortalized him as America's Legendary Daredevil.
Knievel died in Clearwater, Florida on November 30, 2007. Knievel was buried in his hometown of Butte, Montana on December 10, 2007 following a funeral at the Butte Civic Center. Fireworks exploded in the Butte night sky as pallbearers carried Knievel's casket into the center.
A longtime friend reported that Knievel had trouble breathing while at his residence in Clearwater, but died before the ambulance could reach the hospital. "It's been coming for years, but you just don't expect it. Superman just doesn't die, right?" In his last interview, Knievel told Maxim Magazine, "You can't ask a guy like me why [I performed]. I really wanted to fly through the air. I was a daredevil, a performer. I loved the thrill, the money, the whole macho thing. All those things made me Evel Knievel...."
Thank you to:
The New York Times
www.evelknievel.com
Wikipedia
www.espn.com

Updated: September 2, 2020