Patrick Duffy
Updated: September 2, 2020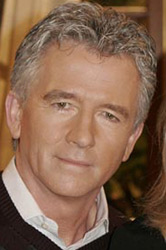 Patrick Duffy was born in Townsend, Montana on March 17, 1949. He is an actor of Irish descent, who has appeared primarily in soap operas and television. The naturally black-haired Duffy is best known for his roles as the younger, nicer brother on the 1980s CBS drama Dallas and as Suzanne Somers's husband on the long-running 1990s Step by Step. In March 2006 Duffy began playing the role of Stephen Logan on The Bold and the Beautiful. As of March 31, 2008, he became the host of the GSN game show Bingo America. His trademark role is 'the good guy'.
His involvement in his high school's drama department led him to apply to the Professional Actors Training Program at the University of Washington, Seattle. He was one of 12 people accepted, from over 1,200 applicants. He wanted to become a professional athlete, and became a certified scuba diver while in his teens. In 1976, Duffy landed the role of Mark Harris in the short-lived television series Man from Atlantis. Following the series' cancellation, he got his big break on the TV series Dallas, a role he played until 1991. Duffy parted with the series in 1985, filming a death scene; with the show and his career struggling, he returned in 1986 in an infamous shower scene that rendered the entire 1985 - 1986 season "just a dream."
Duffy continues to act in the occasional guest or voice acting appearance, including the show Family Guy (in which he appeared in a live action scene with Victoria Principal as they spoofed the infamous Dallas shower scene).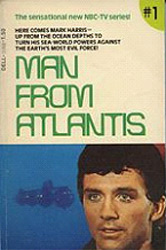 Though he's a former Catholic and named for St. Patrick because he was born on March 17, he converted to Buddhism. Duffy married Carlyn Rosser, who is 10 years older than him, in a Buddhist ceremony on February 15, 1974. They moved to New York, where Patrick appeared in Off-Broadway plays, and supported them by being as a carpenter. The couple moved to Hollywood, where he drove a flower delivery truck. In 1976, Patrick was working as a house painter when he got the role of Mark Harris in the TV series Man from Atlantis.
They have 2 sons, Padraic and Conor and own a home in Oregon. Duffy plays the piano, was a cheerleader in high school, learned to hold his breath underwater for 3 minutes during his Man from Atlantis days, has been a Buddhist for 30+ years, and was named number 1 of the 100 Alumni of the Century by the University of Washington. He earned $75,000 per episode of Dallas, plus a $1 million signing bonus from 1986 to 1991 and as of January 2000, in 22 years in show business, he's only been out of work a total of 3 weeks.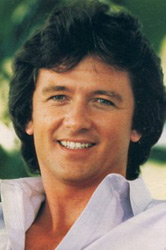 'So what would he really like to do, if given the chance?' "I'd like to do period work. I'd like to swash and buckle until I can't see my buckle anymore."
Academically, Duffy earned credentials in theater arts that entitled him to teach, graduating from the University of Washington in 1971 with a degree in drama and created the position of actor-in-residence, where he worked as an interpreter for ballet, opera, and orchestra companies in Washington.
Duffy has appeared in 3 films, 1984 in Vamping, 1998 in Rusty: a Dog's Tale and Walk Hard: the Dewey Cox Story in 2007. 'Wasn't it boring being the goody-goody?' "Ninety percent of the time I play the hero. It's a combination of what I look like, what I'm comfortable doing and what people want me to do."
Next was Texas, then the host of The Hunchback of Notre Dame Festival of Fun Musical Spectacular, and appearing in Dallas: J.R. Returns, Heart of Fire in 1997, Dead Man's Gun, Don't Look Behind You, and Twice in a Lifetime.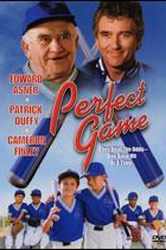 Duffy guest starred on Family Guy and was in Perfect Game on Disney Channel. In 2002 there was Justice League and then Duffy was in Touched by an Angel, Reba and Falling in Love with the Girl Next Door. From 2006 to now, he has been on The Bold and the Beautiful and currently hosts Bingo America on the Game Show Network.
Duffy has won a Bambi Award in 1987. He also won the Soap Opera Digest Awards in 1985 and 1988 for "Outstanding Lead Actor in a Prime Time Serial" for Dallas, and was nominated for "Favorite Super Couple in a Prime Time Serial" in Dallas in 1990. Duffy was also nominated for "Outstanding Lead Actor in a Prime Time Serial" in Dallas and won the 2006 TV Land Awards "Pop Culture Award" for Dallas.
"I'm one of the lucky actors in television. I don't make a lot of big waves, but there's constant activity, and that's the way I prefer to live my life."
Thank you to:
http://www.ultimatedallas.com
Wikipedia
http://www.imdb.com
Patrick Duffy Fan Site
Updated: September 2, 2020