Dirk Benedict
Updated: September 2, 2020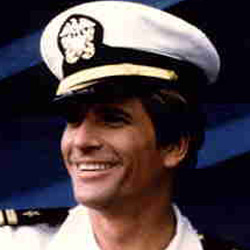 Dirk Benedict was born in Helena, Montana on March 1, 1945. He grew up in White Sulphur Springs, Montana and is best known for playing the characters Lt. Templeton 'The Faceman' Peck in The A-Team and Lieutenant Starbuck in the original Battlestar Galactica movie and television series. "Life has never been easy. Nor is it meant to be. It is a matter of being joyous in the face of sorrow."
He enjoyed learning to hunt, fish, and enjoy sports, especially football. At Whitman College in Walla Walla, Washington, during his freshman year, he was dared to audition for the spring musical and won the lead role in Show Boat. When he graduated, Benedict began a two-year training program under John Fernald, who had headed the Royal Academy of Dramatic Art in London for 15 years.
Dirk was born Dirk Niewoehner and started to use the stage name 'Benedict' while searching for a catchier name, he agreed to the suggestion of "Benedict" by his agent, who was inspired by the actor's breakfast choice of Eggs Benedict during their conversation.
Benedict then played repertory theatre in Seattle and in Ann Arbor, Michigan, where he played such roles as Edmund in King Lear and the lead in Neil Simon's The Star-Spangled Girl. Soon after, Benedict was flying across the Atlantic to Sweden for his first movie, Georgia, Georgia was written by Maya Angelou.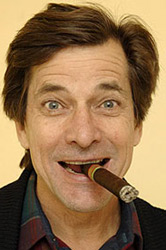 On his return to New York, Benedict replaced Keir Dullea in Butterflies Are Free on Broadway. When the New York run ended, he received an offer to repeat his performance in Hawaii. While there, he appeared as a guest on Hawaii Five-O. "Hollywood... a city I was to come back to time and again, in sickness and in health, in success and in failure, with anticipation and with dread." His career break came in 1978 when he appeared as Lieutenant Starbuck in the movie and television series Battlestar Galactica.
4 years later, Dirk gained further popularity in what is arguably his most famous and popular role, as con-man Lieutenant Templeton 'The Faceman' Peck in 1980s action television series, The A-Team. He played this high profile role from 1982 to 1986. In 1987, Benedict took the title role of Shakespeare's Hamlet at the Abbey Theatre on Broadway. "The best things in life are usually difficult."
In 1986, he married Toni Hudson, an actress (who had appeared in a fourth season A-Team episode), and had two sons, George and Roland. They divorced in 1995.

Benedict has been in a lot of movies, the most recent being the movie reboot of The A-Team in 2010, Earthstorm, Goldene Zeiten, Waking Up Horton, Steel Stomachs, Zork: Grand Inquisitor, Abduction of Innocence, Demon Keeper, The Feminine Touch, Official Denial, Shadow Force, Blue Tornado, Bejewelled, Trenchcoat in Paradise, Body Slam, Ruckus, Underground Aces, Scavenger Hunt, Mission Galactica: The Cylon Attack, One of Us is a Murderer, W, Chopper One, SSSSSSS and Georgia, Georgia in 1972.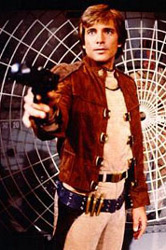 He has made TV guest appearances on Celebrity Big Brother in 2007, Murder, She Wrote, Walker, Texas Ranger, Baywatch, Amazing Stories, 2 episodes of The Love Boat, Cruise Into Terror, Galactica 1980, 3 episodes of Charlie's Angels in 1976, Donny and Marie, Mark of the Devil, The A-Team, Family in Blue, Scruples, The Georgia Peaches, Battlestar Galactica from 1978 to 1979, Journey from Darkness and Hawaii Five-O.
Benedict is a vegetarian. He is a cancer survivor and has written a book "Confessions of a Kamikaze Cowboy" which chronicles his rise in Hollywood and his battle with the disease using a Macrobiotic approach, a philosophy he sticks to this day. Benedict has written two books "Confessions of a Kamikaze Cowboy" and "And Then We Went Fishing". Dirk has also directed his own original screenplay Cahoots. Dirk resides in Montana with his two sons George and Roland.
"If we wait until our lives are free from sorrow or difficulty, then we wait forever. And miss the entire point."
Thank you to:
The New York Times
Wikipedia
http://www.brainyquote.com/
http://www.dirkbenedictcentral.com/
Updated: September 2, 2020