With My Saddle, My Horse, and My Cousins, I Rode Three Miles to Indian Arrow School
Updated: August 17, 2020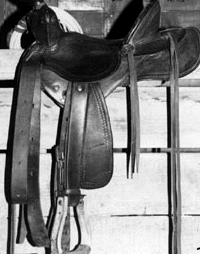 Treasured Saddles
Of all the tools a cowboy uses, the saddle is one of the most essential. If it's well-made and comfortable, it makes a hard day's work easier for the workers on both sides of it---two-legged and four-legged.
These saddle stories were originally written for a "Treasured Saddle" series that runs in Agri-News, a weekly ag paper from Billings, Montana. I think you will enjoy reading about not only the saddles but also about the cowboys and cowgirls who rode them.
Linda Grosskopf, Editor, Agri-News
by Patsy Blake Glaser, Huntley, Montana
My parents must have purchased the first Connolly saddle in 1940 when I was about nine years old. It was for ME, and to accompany the saddle they bought a mare from Mac Crandell. She had been a dude horse and was a very kind, sweet horse that stumbled. With my saddle, my horse, and my cousins, I rode three miles to Indian Arrow School.
One day, my civilized city auntie told my parents that she had seen us country cousins racing our horses. We were NOT supposed to race our horses. But when I explained that the Indians were after us and we were escaping quickly, my dad said, "Well, kids will be kids. I'd better buy a horse that won't stumble." Shortly after that, my folks bought Lightfoot, a pinto mare that I broke. This was early in the '40s. Horseback, my cousins and I combed the country. The war effort included the demand for bone meal and a need for ground juniper berries. Also included in our many money-making schemes, we checked all the magpie nests eggs destroyed were a penny each, but we tried to wait and reap the benefits of incubation as each chick was worth a nickel. In addition, there were cows to be found, cows to be moved, and milk cows to be wrangled.
Time passed by quickly and before long I went off to Bozeman for higher learning. By spring quarter I was so homesick and lonesome for the ranch that I told my Dad that I had to come home and help calve the cows. He said that there was only so much money so I could either have a new saddle or go to the spring quarter. No contest! My first Connolly saddle was passed first down to my little sister Virginia and then to my children and grandchildren. My great-granddaughter Brianne now rides that little 57-year-old Connolly saddle, and she won't be the last generation to ride it either.
Note: This story---just one in a series of "Treasured Saddle" features---first appeared in the February 21, 1997, issue of Agri-News, a weekly ag newspaper from Billings, Montana. For more information about Saddle Stories, or to subscribe to Agri-News, contact:
Agri-News
PO Box 30755
Billings, MT 59107
Updated: August 17, 2020