They Came to Montana With Three Horses, Three Cows, and Two Boys
Updated: August 13, 2020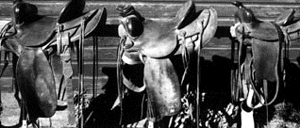 Treasured Saddles
Of all the tools a cowboy uses, the saddle is one of the most essential. If it's well-made and comfortable, it makes a hard day's work easier for the workers on both sides of it---two-legged and four-legged.
These saddle stories were originally written for a "Treasured Saddle" series that runs in Agri-News, a weekly ag paper from Billings, Montana. I think you will enjoy reading about not only the saddles but also about the cowboys and cowgirls who rode them.
Linda Grosskopf, Editor, Agri-News
by Arthur Lammers, Shawmut, Mont.
My parents came to Montana in April 1911 to a homestead two and a half miles east of Nihill, Montana. Named for Pat Nihill who ran sheep in the East, Nihill was a station on the Great Northern Railroad 14 miles southeast of Judith Gap.
Father came in an emigrant car with three horses, three cows, and whatever else a railroad car could hold. Mother came by passenger train with two young boys. I was 3 weeks old. Later, they always said they came to Montana with three horses, three cows, and two boys.
We did not have a saddle on the homestead until 1920. We learned to ride bareback, and if we got off, we would have to lead the horse along a fence to get back on. In 1921 we rode the range bareback and barefoot. We left the saddle hanging in the barn. There were 3- and 4-year-old steers on the range in the summer.
In the late 1920s, we had an Al Furstnow catalog, which we looked at, but we had no money to buy anything at that point in time. I bought my first saddle in 1931 for $25 from a neighbor who was selling out. I also bought a pair of woolly chaps for $10. The saddle burned up in a barn fire at night about 1938. I was then without a saddle, so I sold three horses on November 11, 1938, for $87 at the Billings Livestock Commission Auction.
I went to Connolly's Saddlery in Billings and had them make a saddle which sold for $80. I still have the saddle and have had it redone so it is still in good use. There hasn't been much said about Connolly saddles. They are as good a saddle as was ever made.
At the present time, the ranch has ten saddles in the barn. Four are Connolly saddles; three were made by Wes Schenk of Harlowton, Mont.; and the origin of the others is unknown.
Note: This story is just one in a series of "Treasured Saddle" features first appeared in the November 28, 1997, issue of Agri-News, a weekly ag newspaper from Billings, Montana. For mor information about Saddle Stories, or for a subscription to Agri-News, contact:
Agri-News
PO Box 30755
Billings, MT 59107
For more information about Furstnow Saddlery or Connolly Saddlery, check out their presentations, also under "The People."
Updated: August 17, 2020