It Was a Wonderful Gift From Great-Grandfather
Updated: August 13, 2020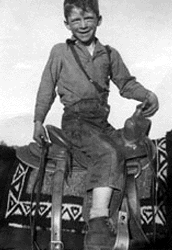 Treasured Saddles
Of all the tools a cowboy uses, the saddle is one of the most essential. If it's well-made and comfortable, it makes a hard day's work easier for the workers on both sides of it---two-legged and four-legged.
These saddle stories were originally written for a "Treasured Saddle" series that runs in Agri-News, a weekly ag paper from Billings, Montana. I think you will enjoy reading about not only the saddles but also about the cowboys and cowgirls who rode them.
Linda Grosskopf, Editor, Agri-News
by Betsy Shirley, Norris, Mont.
In the spring of 1955, Harley Fitzhugh of Three Forks, Montana, made a youth saddle for my son, Stuart Shirley. It was to be a gift for his sixth birthday from his great-grandfather.
This saddlemaker was well known in this area (Gallatin-Madison) as he built saddles over many years. This youth saddle was one of the last he made.
The little boy loved his new saddle and rode it every day to school, which was a one-room school on the Madison River. School went from March to November, and the four Shirley kids rode their horses to school in all but the worst weather---that amounted to at least 2,000 horseback miles a year to school, not counting all the weekend riding.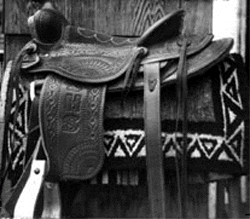 After six years of riding to the country school, Stuart went to school by bus to Harrison, but still rode his faithful little saddle until he was nearly 15.
Stuart now ranches north of Melstone, Montana, and his boyhood saddle now belongs to his son Sam, who has ridden it many long miles.
Stuart's initials SHS were stamped vertically on the fenders, and Sam is proud that his initials are the same as his dad's!
Surely, this well-made, much used saddle will carry kids on horseback for years to come.
Note: This story---just one in a series of "Treasured Saddle" features---first appeared in the June 6, 1997, issue of Agri-News, a weekly ag newspaper from Billings, Montana. For more information about Saddle Stories, or for a subscription to Agri-News, contact:
Agri-News
PO Box 30755
Billings
MT 59107
Updated: August 13, 2020