Furstnow Made the Saddle that Made Miles City Famous
Updated: August 13, 2020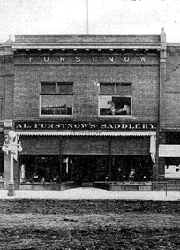 by Fritz Rehbein
Al Furstnow was born right around 1862 in Fond Du Lac, Wisconsin. He learned the saddlery business from his father and worked for Collins' Saddlery in Cheyenne, Wyoming, in 1881.
Furstnow went to Miles City, Montana, about 1883 where he worked for Goettlich for about a year. He then bounced around to Nebraska, Wyoming, and California for several years, coming back to Miles City to work for Robbins & Lenoir about 1892.
In August of 1894, Furstnow opened his own shop. I don't think he bought anybody out or throwed in with anybody. Then, in December 1894, Charlie Coggshall bought half interest in Furstnow's shop. Two years later, Furstnow and Coggshall, as partners, bought out the stock of Moran and W. J. Zimmerman.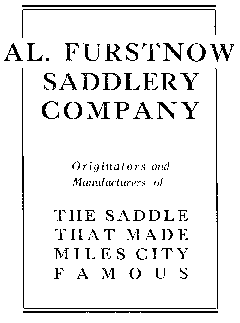 Furstnow & Coggshall added workers and became the only major saddlery between Billings, Montana, and Dickinson, North Dakota and a lot of people were sitting in saddles in those days!
Then in March 1899 Furstnow & Coggshall split up, forming a rivalry that lasted well into the 20th century. Around 1910, Al Moreno, a highly talented stamper from California, joined Furstnow in his new two-story building. Furstnow was turning out about 800 saddles per year at that point. Al Moreno ended up being Furstnow's son-in-law.
About July 1916 Furstnow's son I believe his name was Charles started up a branch retail saddlery in Sidney, Montana, which was my old stomping grounds. That branch store buttoned up around November 1917.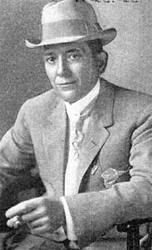 Al Furstnow himself went to California around 1922 where he built saddles for some of them actors. He died in California around 1925, about 62 or 63 years old.
Al Furstnow's Saddlery in Miles City, Montana, was in business from 1894 until 1982. It was run by his son-in-law Al Moreno and, I'm pretty sure, Moreno's son helped out too but it carried the Furstnow name from 1894 to 1982, right around 88 years.
Note: This story appeared originally in the September 25, 1997, issue of Agri-News, a weekly ag newspaper from Billings, Montana. For more information about Agri-News or to receive a subscription, contact:
Agri-News
PO Box 30755
Billings, MT 59107
Updated: August 13, 2020