Ostriches, Emus, and Rheas
Updated: September 14, 2020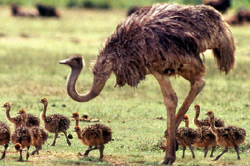 Don't be surprised if you see livestock that looks like birds roaming the ranges of Montana. In the last ten years Montana has become a major producer of ostriches, emus and rheas. Collectively these birds are known as ratitites. None of them are able to fly and they all eat roughage. They do well on alfalfa hay or a concentrate of grain and protein supplement. The birds are generally friendly, but the males may become aggressive as they get older.
Although these three bird types have several similarities they definitely vary in size. Ostriches originated in Africa and are the largest and tallest of the three birds. They sometimes grow to 9 feet tall! Emus originated in Australia and stand up to 6 feet tall. Rheas were imported from South America and may be up to 5 feet tall.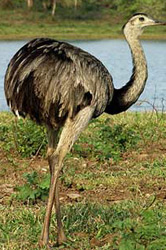 Ratites provide many important products. Ostriches are valued for their low-fat meat, and hide. Their feathers sell for up to $40 per pound. These feathers were widely used in women's hats in the early 1900's. Today they are used for cleaning computer chips and small mechanical parts. Emus and rheas also provide meat, leather and feathers. However, emus are most prized for their oil which is used for sunburn, antiseptic and muscle aches. Rheas also produce oil, used as a machine lubricant. The empty egg shells from the birds are crafted into gift items.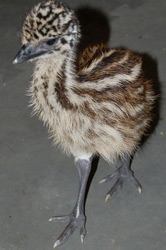 Ostriches are capable of producing an average of 20 chicks per year. And an ostrich will live for as long as 80 years! They remain productive for 30-40 years. An emu will produce about 30 to 50 eggs per season and lay their eggs in the winter.
Montana producers raise about 1000 emus each year. There are about 100 ostrich farms in the state. This puts Montana in the top third of ratite producers in the nation.
Thank you to the OER Association and the Montana Ostrich Association for providing much of this information.
Updated: September 14, 2020