Beef
Updated: September 14, 2020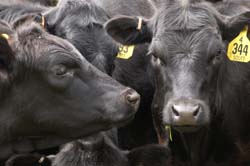 On average a person in the United States consumes more than 106 pounds of beef each year.
Commercial beef cattle are those raised for meat. Cattle raised for beef may be allowed to roam free on grasslands, or may be confined at some stage in pens as part of a large feeding operation called a feedlot, where they are usually fed grain.
There are many different cuts of beef. The closer to the middle of the back and farther from the hooves and horns the cut is, the tenderer the meat is.
Chuck — Hamburger
Rib — Short ribs, rib eye steak
Short Loin — Porterhouse steaks, filet mignon (tenderest)
Sirloin — Sirloin steak
Round — Round steak
Brisket — Barbecue beef brisket
Shank — Stews and soups (toughest)
Plate — Skirt steak
Flank — London Broil
The better cuts are usually obtained from the steer, as the heifer tends to be kept for breeding. Older animals are used for beef when they are past their reproductive prime. The meat from older cows and bulls is generally tougher, so it is frequently used for ground beef.
In addition to the different cuts, there are also different grades of beef. In order from the highest quality to the poorest they are: Prime, Choice, Select, Standard, Commercial, Utility, Cutter, and Canner. Most beef offered for sale in supermarkets is graded choice or select. Prime beef is sold to hotels and upscale restaurants.
Updated: September 14, 2020