Montana is "Bear Country".
Montana is designated as America's "Treasure State". Montana boasts many natural riches from Glacier National Park in the North, to our abundant wildlife like grizzly and black bears, deer, elk, antelope, moose, wolves, and buffalo that roam throughout our State. This is a good opertunity for you to learn a few interesting things about some of our Montana bears, mainly the Grizzly and the Black Bear.
In the northwest, grizzlies are mostly limited to the Yellowstone and Glacier National Park areas of Montana and western Wyoming. Black bears monopolize the rest of the North American forests and many of the swamps. Below you will find interesting 'bear facts' and characteristics about the bears of Montana.
Grizzly Bear
Key Features of the Grizzly Bear: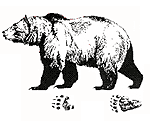 Ears rounded, not prominent
Claws of front feet are long. 2-3 inches ahead of toes.
Pronounced shoulder hump
Broad dished face.
Shoulders are high point of profile
Fur is often silver tipped
Larger than black bears- 200 to 1100 pounds
Front foot print 5.5 inches wide
Color varies from brown to black
Omnivorous - meaning they eat both plants and meat
Cubs stay with their mom 2.5 to 4.5 years after birth
Typically hibernate for 1/2 the year
Considered an endangered species
Black Bear
Key features of the Black Bear: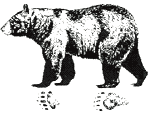 Ears pointed and prominent
Claws of front feet are short
No shoulder hump
Roman nose- no dished face
Back hips are high point of profile
Smallest of the three bear species found in North America - 100 to 440 pounds
Front foot print 3.75 inches wide
Color varies from black to blond
Can live 20 to 25 years in the wild
Omnivorous - meaning they eat both plants and meat
Cubs stay with their mom 1 to 1.5 years after birth
Do not go into deep hibernation during the winter, but do remain dormant
Documented at running speeds up to 30 mph
Most abundant bear in the world
Excellent tree climbers