Updated: September 4, 2020
License Plate Game
The scenario: You and your family are taking a road trip across Montana. You're stuck in the back seat of the car with nothing to do. Fear not. We have a cure for your boredom. Try this fun car game to pass the time. All you need are some colored pencils and a print out of this page, which includes directions, a list of Montana counties and their corresponding license plate prefixes, and a county map for you to color.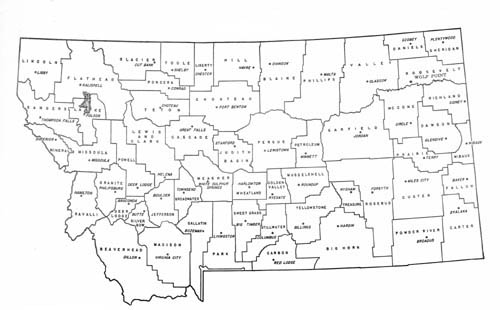 Click the map to print this page.
Directions: Slip on your headphones, crank up your favorite music and check out the cars going past. If you've ever played blackout bingo, this game should be a piece of cake. Let's say the first Montana license plate you see starts with the prefix 1. If so, color in Silver Bow county on the map. Keep looking for different prefixes until you've colored in all the counties on the map.
County Numbers - County Seat
Silver Bow
Cascade
Yellowstone
Missoula
Lewis & Clark
Gallatin
Flathead
Fergus
Powder River
Carbon
Phillips
Hill
Ravalli
Custer
Lake
Dawson
Roosevelt
Beaverhead
Chouteau
Valley
Toole
Big Horn
Musselshell
Blaine
Madison
Pondera
Richland
Powell
Rosebud
Deer Lodge
Teton
Stillwater
Treasure
Sheridan
Sanders
Judith Basin
Daniels
Glacier
Fallon
Sweet Grass
Mccone
Carter
Broadwater
Wheatland
Prairie
Granite
Meagher
Liberty
Park
Garfield
Jefferson
Wibaux
Golden Valley
Mineral
Petroleum
Lincoln
Updated: September 4, 2020