ABOUT THE SITE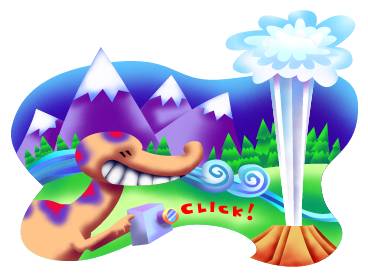 MONTANA KIDS! (http://montanakids.com) highlights facts about Montana, presents information about the state's history, natural resources, activities, attractions and other "cool topics" that will help its users learn about the state. The site's "host" is a duck bill dinosaur cartoon character named " Maia" who guides users through eight main sections of the state. "Maia" and the site's other cartoon features were created by Helena artist Peter Grosshauser.
The concept for the site grew out of a large number of inquiries about the state from students researching state day reports and continues to develop content based on those inquiries. Travel Montana, the state tourism office, along with a number of other state agencies including the Montana Agriculture Department, Fish, Wildlife & Parks, the Montana Historical Society and State Library pooled information most often requested by students and presented it here.
The site was officially launced at Christmas time in 1997 in a ceremony at the State Capitol conducted by Governor Racicot. Montana Kids! was developed under the leadership of Montana Commerce Department's Travel Montana staff including: Shawn Peterson, Thurston Elfstrom, Corrie Hahn, Diana Howard, Jan Wirak and in conjunction with the Information Tehnology Resource Center (ITRC) at the University in Missoula. Special acknowledgement goes to Meta Boyer and Montica Willmschen from the Montana Department of Agriculture for their assistance in developing extensive agriculutre presentations.