Whitefish Lake State Park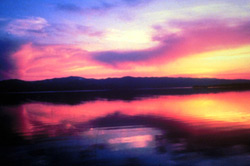 This park is 10 acres at an elevation of 3,012 feet. There are 25 camp sites that are RV available with a RV/trailer size limit of 40 feet. It offers a group use area, grills/fire rings, boat ramp, firewood, public phone, picnic tables, trash cans, flush toilets, showers and drinking water. Pets must be on a leash.
This park provides a mature forest and a pleasant campground and beach. Boating, swimming and fishing are popular activities and the lake is rarely windy so it provides ideal conditions for waterskiing. There are a number of activities offered, such as bicycling, camping, photography, picnicking, tent camping, water skiing and wildlife viewing. Children love the trains that rumble along the park's edge.
Visitors who arrive on foot or on a bicycle have the option of camping in our new hiker/biker site. There are golf courses located nearby in Whitefish, Kalispell, and Columbia Falls and museums in Whitefish and Kalispell. Limit of 7 day stay out of 30 days and a there is a $15.00 overnight camping fee and $5.00 non-resident day-use fee.
Whitefish Lake State Park is the only FWP managed site on Whitefish Lake. Whitefish Lake is a tributary of the Whitefish River.
How to get there:
Travel 0.5 mile west on US Highway 93, then 1 mile north on State Park Road.
For more information and maps visit the Montana Fish, Wildlife and Parks listing for Whitefish Lake State Park.