Pictograph Cave State Park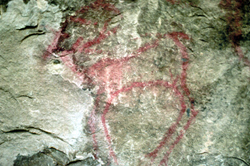 First there was the land, the mountains, and the rivers. Humans are but recent newcomers to this place now called Montana. However, when and how they arrived is still a mystery. Pictograph Cave State Park is a place to contemplate the origins of human habitation of Montana. Before the arrival of the Crow Indians or the Europeans, people hunted the woolly mammoth in the Yellowstone Valley and documented their lives with paintings in the caves that you can still explore.
The pictographs are more than 4,500 years old. Their interpretations are still subject to great debate. Do they simply document hunts, or do they honor people or their scripts? The images of animals, warriors, and even rifles, tell a story that has lasted thousands of years. The three main caves — Pictograph, Middle, and Ghost cave complex were home to generations of prehistoric hunters. They were carved from the eagle sandstone cliff by the forces of water and wind erosion. The first major discovery of artifacts and paintings in the caves was made in 1936.
Approximately 30,000 artifacts, ranging from stone tools, weapons, paintings, and the instruments used for painting, have been identified from the site. The red, black and white pigments used provide key evidence suggesting that the caves were first used by nomadic hunters seeking shelter. Other evidence, such as bones, indicates that the caves were also used as a burial ground. The artifacts discovered allow researchers to pinpoint which peoples used the caves and when they inhabited the region.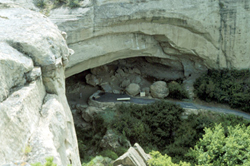 The park has paved trails to Pictograph Cave and Ghost Cave, with interpretative displays along the route identifying and explaining the natural features, the prehistoric paintings, and vegetation found in the area. The Middle Cave is not accessible for public viewing. The Pictograph Cave is the deepest of the three main caves, at approximately 160 feet wide and 45 feet deep. Visitors are advised to bring binoculars to get a better view of the pictographs located at higher elevations. Allow at least an hour to complete the pleasant ¼ mile loop of the ancient rock paintings.
How To Find It!
Pictograph Cave National Historic Landmark is located 7 miles southeast of Billings off I-90 at the Lockwood exit, then 6 miles south on the county road.
For more information and maps visit the Montana Fish, Wildlife and Parks listing for Pictograph Cave State Park.