Parker Homestead State Park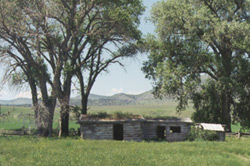 This sod-roofed log cabin is representative of the thousands of simple frontier homes that provided shelter for hopeful pioneers who settled Montana. It is on 2 acres of land at an elevation of 4,147 feet. Vehicle size is limited to passenger car only. This site is undeveloped, unsigned and there are no fees to enter this day use only area.
How to get there:
Parker Homestead State Park is located 8 miles west of Three Forks on Montana Highway 287.
For more information and maps visit the Lewis and Clark Trail listing for Parker Homestead State Park.