Painted Rocks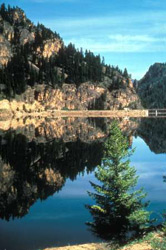 Located in the Bitterroot Mountains, Painted Rocks Reservoir offers boating, camping, and fishing in a scenic, western pine-forest setting. The park is 23 acres in size and is 4,724 feet in elevation. This area offers 25 sites with vault toilets, grills, fire rings, picnic tables, a boat ramp and dock, drinking water, and limits of RV/trailers of 25 feet. Due to its primitive designation, the park is pack-in/pack-out and there are no fees to use the site. However, donations are accepted to assist with maintenance of the site. Water levels for boating can be poor at this site after 8/1 and there is a 14 day limit for camping in a 30 day period. It's open January 1 - December 31. A museum is located nearby in Darby.
Painted Rocks State Park is located on Painted Rocks Reservoir. It is the only FWP managed site on Painted Rocks Reservoir and is a tributary of the West Fork Bitterroot River.
How to get there:
Painted Rocks State Park is located 17 miles south of Hamilton on US 93, then 23 miles southwest on Secondary 473.
For more information and maps visit the Montana Fish, Wildlife and Parks listing for Painted Rocks State Park.