Missouri Headwaters State Park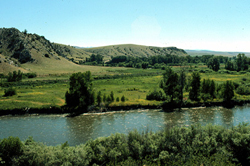 Within the boundaries of this scenic park, the Jefferson, Madison, and Gallatin rivers merge to form the 2,300-mile Missouri River. The Missouri Headwaters area was a geographical focal point important to early native Americans, trappers, traders, and settlers. Coveting the regions bountiful resources, the Flathead, Bannock, and Shoshoni Indians competed for control of the area, as did the trappers and settlers who followed. Considering it an essential point in the geography of this western part of the continent, Meriwether Lewis wrote, "the country opens suddenly to extensive and beautiful plains and meadows, which appear to be surrounded in every direction with distant and lofty mountains." The legendary Sacagawea was captured here as a child and eventually returned as a member of the Corps of Discovery.
In 1808, John Colter, a member of the earlier Lewis and Clark Expedition and discoverer of Yellowstone National Park made several trips to this area in search of beaver furs. Colter along with a fellow trapper, Potts, encountered a band of Blackfeet Indians while trapping on the Jefferson River. The Indian party of 600 warriors killed Potts and took Colter hostage. For sport, the war party forced Colter to run naked across the prairie towards the Madison River as they pursued him. Given a head start, Colter did manage to outrun all but one warrior. The exhausted Blackfoot warrior tripped and threw his spear, missing Colter. Colter grabbed the weapon and killed his pursuer. He then dove into the Madison River and hide under a raft of driftwood until the Blackfeet gave up theri search. Eleven days later a half dead Colter staggered into Fort Lisa on the Bighorn River. Dispite the harrowing experience of Colter, pioneers slowly settled the surrounding area and transformed it into profitable grazing and farming land.
In 1940, local residents donated twenty-one acres at the headwaters to the state of Montana to preserve this historic spot from further development. In 1957, the state of Montana established the Missouri Headwaters State Park. In the 1960s, 500 additional acres were added to the park and the Montana's Bicentennial Park was developed with improved campgrounds, picnic areas and numerous interpretive displays documenting this National Historic Landmark's rich history. Missouri Headwaters State Park preserves much of the region's abundant wildlife, lush vegetation, and scenic beauty that have attracted people for thousands of years.
The Missouri Headwaters State Park provides a campground, picnic areas, foot trails to points of interest, and interpretive displays of the area's cultural and natural history. River floating and fishing are popular activities. The park is 532 acres in size and 4,795 feet in elevation. The site offers vault toilets, a group-use area, an RV dump station, grills, fire rings, picnic tables, and drinking water. Campers may stay 14 days during a 30-day period and enjoy a golf course and museum located nearby in Three Forks. This site is designated "Primitive."
How To Find It!
Missouri Headwaters State Park is located 3 miles east of Three Forks on I-90 at Three Forks exit, then east on Secondary 205, then 3 miles north on Secondary 286.
For more information and maps visit the Montana Fish, Wildlife and Parks listing for Missouri Headwaters State Park.