Medicine Rocks State Park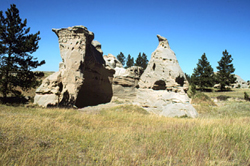 In the southeastern corner of Montana, just north of Ekalaka are the great sandstone pillars of Medicine Rocks State Park. As its name implies, Medicine Rocks was a place of "big medicine" where Indian hunting parties conjured up magical spirits. One of the parks first tourist in the late 1800's, a young rancher and future U.S. president, Teddy Roosevelt wrote; "As fantastically beautiful a place as I have ever seen,".
Weathering has given the soft sandstone rock formations a swiss-cheese look carved by time, water, and wind. Around 65 million years ago, much of Montana was covered by a vast, tropical sea. What today is eastern Montana was at the sea's edge. Some geologist theorize that a sandy river emptied into the sea here and other suggest that sand dunes are the origins of the Medicine Rocks. Whatever the source these geographic marvels compacted under the pressure of their own weight, eventually turning to stone. Then the relentless winds sweeping off the prairies carved away at the stone creating fascinating columns, buttes, spires and pillars.
Early visitors to Medicine Rock State Park left their mark on the park. Encased in fossilized form can be seen the remanents of ancient turtles, small mammals, mollusks, and palm trees in the ancient sandstone formations. Archaeologist also have found Indian tools, weapons, and tipi rings in the park.
Today the park is a haven for mule deer, antelope, and sharp-tailed grouse. This unique park is 320 acres in size and is at an elevation of 3,441 feet. There are approximately camping sites with vault toilets, a group use area, grills, fire rings, picnic tables, and drinking water. Two golf courses and a museum are located nearby in Baker and there is also a museum in Ekalaka. Due to its "Primitive" park designation, it is a pack-in/pack-out site and there are no fees to enter or stay there.
How To Find It!
Medicine Rocks State Park is located 25 miles south of Baker on Montana 7, mile post 10, then 1 mile west on County Road. It is just 14 miles north of Ekalaka.
For more information and maps visit the Montana Fish, Wildlife and Parks listing for Medicine Rocks State Park.