Madison Buffalo Jump State Park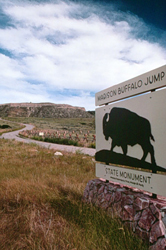 Situated on the edge of a broad valley carved by the Madison River, this high limestone cliff was used for 2,000 years (as recent as 200 years ago) by native Americans. It enabled them to stampede herds of bison in vast numbers off this massive semicircular cliff, utilizing them for food, clothing, shelter, and provisions. This was their only means for survival. The "runners" highly skilled young men trained for speed and endurance and wearing buffalo, antelope, or wolf skins, lured the bison to the "pishkun" or cliff.
Although the introduction of horses led to the abandonment of this jump sometime after 1700, the rugged outcropping now serves as an inspiring monument to the region's early inhabitants. The park encloses all the main geographical features of a jump site and several formations remain to provide visitors with a glimpse of the cultures that utilized this method of hunting. Tons of bones still lie buried at the cliff's base, while archaeologists have located the tipi rings of an extensive village. The remains of rock piles used to guide bison over the cliff can still be seen above the jump. With a little imagination it is easy to visualize the awesome events which occurred here during a drive the thunderous roar of the stampede, the dramatic sight of the fall, and the frenzy of activity which followed. At Madison Buffalo Jump State Park, short walks provide unique insights into native American culture as well as inspiring views of the valley below.
How To Find It!
Madison Buffalo Jump is a state monument located 23 miles west of Bozeman on I-90 at Logan exit, then 7 miles south on Buffalo Jump Road. There are tent and trailer campsites available with no facilities except restrooms.
For more information and maps visit the Montana Fish, Wildlife and Parks listing for Madison Buffalo Jump State Park.