Giant Springs Heritage State Park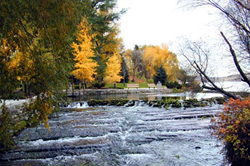 Giant Springs was discovered by the Lewis and Clark Expedition in 1805 as the expedition struggled to portage around the Great Falls of the Missouri, near the present-day city of Great Falls. Captain Lewis stumbled upon the natural wonder on June 18, 1805. This is also the site of the Roe River, listed in the Guinness Book of World Records as the world's shortest river. Giant Springs, one of the largest freshwater springs in the world, flows at a measured 338 million gallons of water per day! The water stays at a temperature of 54 degrees.
More than a quarter of a million people visit the 117-acre Giant Springs Heritage Park each year. Many come to marvel at this remarkable feature, view the variety of bird life, picnic, or learn more about the area's history. Some come to visit the nearby Rainbow Falls Overlook, the visitor center, and the fish hatchery. The fish hatchery program raises about 1.3 million fish annually. They are then distributed to Montana lakes and reservoirs within a 150-mile radius of the hatchery.
How To Find It!
Giant Springs Heritage State Park is located on US Highway 87 north through Great Falls, then 3 miles east on River Drive, or just 3 miles east of US Highway 87 on River Drive, Great Falls.
For more information and maps visit the Montana Fish, Wildlife and Parks listing for Giant Springs State Park.