Lake Elmo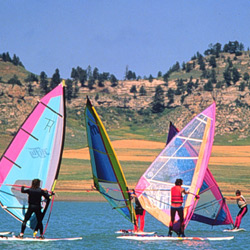 This 64 acre reservoir is a popular swimming, boardsailing, non-motorized boating, and fishing area. The park is 183 acres in size at an elevation of 3,199 feet. The site offers flush and vault toilets, disabled fishing pier, showers, change rooms, picnic tables, trash cans, drinking water, a 1.4 mile hiking/nature trail, public phone and special events during the summer months. This urban day-use park attracts visitors to swim, sailboard, and fish. A display in the Fish, Wildlife & Parks headquarters located on site provides weekday interpretation of the park. Plan to stretch your legs on a walk around the lake or stop by the FWP Region 5 headquarters on the south shore to fish on Roger's Pier or tour the interpretive center.
Pets must be on a leash. Golf courses and museums are located nearby in Billings. It's open January 1 – December 31; day use fees are charged from Memorial Day through Labor Day: for non-resident visitors, the day use fee is $5 per vehicle. Lake Elmo State Park is the only FWP managed site on Lake Elmo.
How to get there:
In Billings, take U.S. 87 north to Pemberton Lane, then go .5 mile west.
For more information and maps visit the Montana Fish, Wildlife and Parks listing for Lake Elmo State Park.